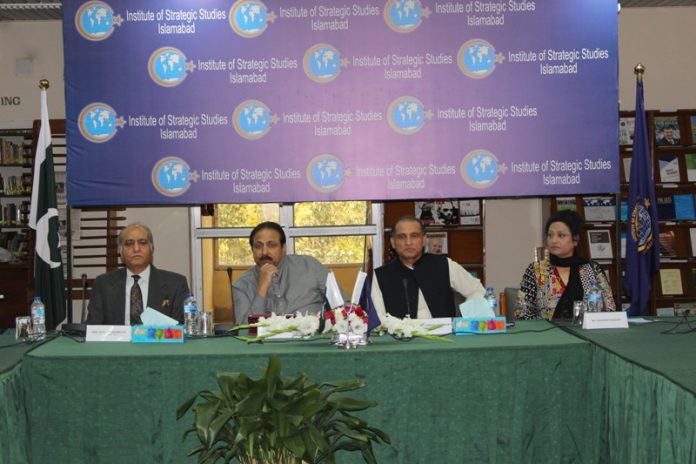 Press Release
Roundtable Meeting on "Role of Pakistani Diaspora"
April 23, 2019
"You can take a person out of a country but you cannot take the love that a person has for the country out of one's heart." This was stated by the guest speaker on the occasion, Mr Irfan Murtaza, a prominent community leader based in California, who is also the current President of Urdu Writers Society Inc., which actively promotes Urdu literature in the United States. The event was part of the ISSI's Distinguished Lecture Series.
Mr Murtaza went on to talk about 'Re-Paint Pakistan' a forum which not only encompasses the Pakistanis but people from other countries as well. The forum acts to project a positive image of Pakistan. He talked about how the tourism industry of Pakistan has much potential but has been the subject of shoddy marketing, which is why the country is deemed unsafe. He also said that it is heartening to see the young Pakistanis now stepping forward in their respective communities and becoming more active. There is now an increased enthusiasm with which migrants are now working for their country and are striving to create a positive image of their country.
The participants agreed that it is very important that the love for the country should be reinforced time and again within the young generation. It was also highlighted how the issue of forced marriages is a serious one. All the participants also agreed that it is imperative that the adequate facilities be provided to the diaspora community and those that wish to return must be properly facilitated.
Earlier, in his welcome remarks, Ambassador Aizaz Ahmad Chaudhry, Director General ISSI, highlighted that the advent of modern means of communication has meant that migration has increased with time. Traditionally migrants are recognized by the remittances they send back to their country. Ambassador Aizaz also gave a brief outlook of the Pakistani community composition – the majority of which reside in the Gulf countries. Most of the migrants are engaged in manual labor and small scale businesses. There are also categories which comprise of well-paid professionals and business executives, students and investors. Facilities for the migrants should be a top priority of the government he said.
The discussion was followed by a lively poetry session on the Pakistani diaspora where various poets expressed their views through lyrics and composition.