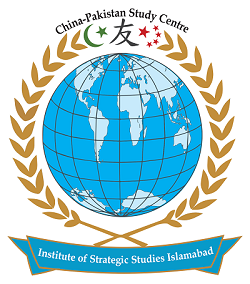 Introduction
The Board of Governors of the Institute of Strategic Studies Islamabad (ISSI) has approved the establishment of the China-Pakistan Study Centre (CPSC) at the ISS on August 19, 2016.
China is the second largest economy of the world and emerging global power. Given the traditional warm and friendly relations between Pakistan and China, it is important for us to learn about China. Considering the evolving regional and global scenarios, the establishment of a centre of excellence devoted to study China's policies and its impact on Pakistan and the region assumes added importance.
Vision
The aim of the China-Pakistan Study Centre (CPSC) is to carry out a dedicated and comprehensive research about China's role in the region and the world and see how it affects Pakistan. The Centre can serve as a forum for learning about Chinese society, history, culture, politics, economy, and government. The Centre provides policy inputs to the Government of Pakistan on China-Pakistan relations as well as to act as a service-provider for business match-making between the two countries.
Scope
The scope of the Centre includes the following areas:
  China's foreign policy;
  Chinese economy and how can we learn from the Chinese model;
  Evolving regional scenarios and its implications for China-Pakistan relations;
  Chinese government system and its internal dynamics;
  Economic cooperation between Pakistan and China;
  China-Pakistan Economic Corridor (CPEC);
  People-to-People contacts;
  Tourism and Culture;
  Education, Science and Technology;
  Media exchanges; &
  Foster research links with partner institutions.