Issue Brief on "US India Relations Under Trump's Administration"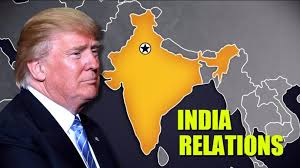 India in particular and offer a more India friendly policy in the South Asian region. However, in recent history, India and US relation has broadly remained on a steady path regardless of whether which party representative is in the office. President Donald Trump has not yet laid a definitive policy directed towards the South Asian region. A few of his statements, however, while running his Presidential campaign, as well as after taking the office of the President provides a sneak peek into the outline and contours of a policy which can be expected.
While running his campaign, President Trump in few of his tweets proclaimed his love for India and said that the Indian community will have a friend in the White House. The roots of the relations lie deep within the new Trump Administration. The Trump Administration is expected to continue and play an imperative role to re-elevate the already thick Indo-US relations. The Republican Hindu Coalition supported the campaign of President Donald Trump throughout and donated a massive amount of $898,000 to the Trump Victory Fund. The Hindu lobby has its tentacles deep in the administration and is highly successful whilst copying the footsteps of the Republican Jewish Coalition lobby. The lobby itself is anti-Islamic and is a major voice for unfriendly Pakistani policies. The lobby works hard to be a voice of India in the Trump administration, and works hard to advance and amplify the existing trade, economic and defense relations between both the nations. The founder of the coalition supported the executive orders passed by President Trump banning immigration and proposed the administration to further ban Pakistan, Afghanistan, and Saudi Arabia along with the seven Muslim countries that have already been banned entry into the US by an executive order issued by President Trump soon after taking office.