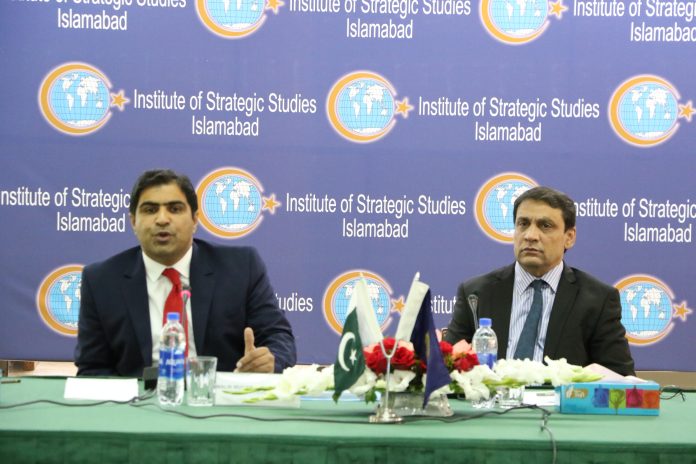 PRESS RELEASE 
Public Talk on "Intellectual Property Rights"
The Institute of Strategic Studies Islamabad (ISSI) organised a public talk in collaboration with Oxford University Press, on "Intellectual Property Rights: Creating Public Awareness" today. The event was a part of ISSI's Distinguished Lecture Series which is meant to create public awareness on a subject of wide-ranging significance. The distinguished speaker at the event was Malik Muhammad Bilal Haider, a foreign qualified renowned lawyer with eighteen years of experience in civil and corporate litigations, banking and intellectual property rights work. Currently, he is associated with Oxford University Press.
In his introductory remarks, Director Research ISSI, Mr. Najam Rafique lamented the fact that, in a society like ours, there is a tendency to put the matters of intellectual property rights on backburner. Describing the dismal state of affairs on this issue, he said that while a majority is aware of rights concerning tangible properties, but there is little awareness when it comes to intellectual property rights. Mr. Najam emphasised that the developed societies have come to the point of appreciating the importance of protecting intellectual rights and we, as a part of think tank and academic community, also need to encourage this trend. Stressing upon the issue of plagiarism, Director Research ISSI said that theft of idea is a cardinal crime and we need to be innovative in our thinking and writing endeavours.
While giving a detailed presentation on intellectual property rights, Mr. Bilal touched upon three main subjects: intellectual property rights, its main normative and legal nuances; international treaties and Pakistan's compliance; and violations, penalties and misconceptions. Commenting on the nature and scope of intellectual property rights, Mr. Bilal categorised the very subject as "a through study (which requires) a through approach." Stating that the subject is complex in all its aspects, he described the literary, innovative, and creative works and the rights related to them as "reflection of human intent."
Deploring the lack of awareness about intellectual property rights, Mr. Bilal cited examples of some of our most celebrated literary personalities – Faiz Ahmed Faiz, Mushtaq Ahmed Yousufi and Qurat-ul-Ain Haider – who were deprived of royalties of their original works. On the contrary, he remarked, J.K. Rowling became richer than the Queen of England only because of the thriving culture of protecting the original idea and work of the authors.
Mr. Bilal said that, "Pakistan is faring well in implementing and complying with the international treaties on intellectual property rights, which is highly commendable." He informed the audience that, "regarding intellectual property rights enforcement data, total 811 cases were registered in the country and legal actions were also taken." He noted the positive upward trend in Pakistan's Intellectual Property Rights Ranking which was 83rd in 2018; 97th in 2017; and 109th in 2016. Mr. Bilal corelated this promising development with Pakistan's improving position in Global Innovation Index.
The speech was followed by a brief question/answer session. The event was attended by diplomats, scholars, civil society members and academia.