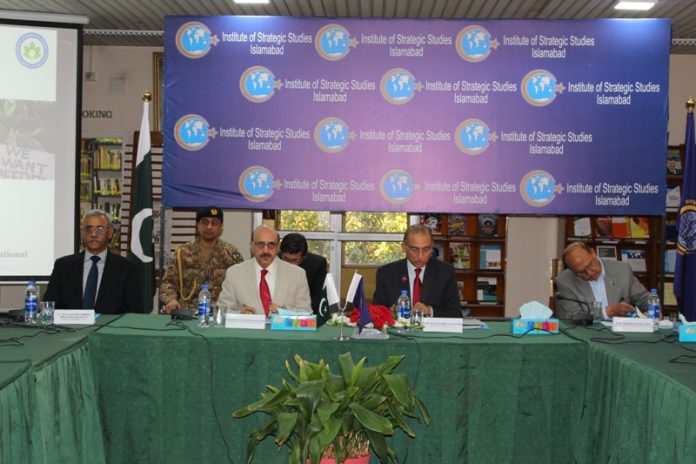 Press Release
Roundtable on "Kashmir Crisis: Way Forward"
October 09, 2019
"It is primarily the responsibility of United Nations Security Council to intervene in Kashmir and save the people from the scourge of genocide and to save the region from the scourge of war." This was stated by the President of Azad Jammu and Kashmir, Sardar Masood Khan at the roundtable discussion on "Kashmir Crisis: Way Forward" organized by the Institute of Strategic Studies Islamabad (ISSI) in collaboration with Jammu Kashmir Self Determination Movement International (Islamabad Chapter) on October 9, 2019. He further stressed that a limited war can quickly escalate in to a nuclear war and would instantly kill 135 million people. Lt. Gen (Retd) Agha Mohammad Umer Farooq, Former President of National Defense University and Lt. Gen (Retd) Naeem Khalid Lodhi, Former Minister of Defence, Pakistan also spoke at the occasion.
The participants raised many important points and discussed the future of Indian Occupied Kashmir. They agreed that Indian aggression is a deliberate attempt to crush the Kashmiri struggle for independence. The participants were of the opinion that Pakistan needs to continue with its diplomatic efforts in highlighting the cause of Kashmir and the human rights violations being committed by the Indian government in Indian Occupied Kashmir. Pakistan needs to actively reach out to the Kashmiri and Pakistani Diaspora living abroad in highlighting the cause of Kashmir at the international forums.
Earlier, in his welcome remarks, Ambassador Aizaz Ahmed Chaudhry, Director General ISSI, extended a warm welcome to all the distinguished guests. He stated that the brutal Indian lockdown of Indian Occupied Kashmir is today 66 days old. He further stressed that Indian government has violated International Laws and all norms of civilised behaviour. International humanitarian organisations and international media are now openly condemning the Indian atrocities towards Kashmiris.
The roundtable was well-attended by members of academia, journalists, members of think tank community, media persons and students.