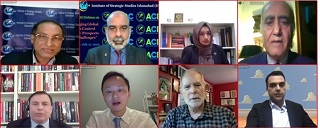 Press Release

ACDC-ISSI Webinar on
"Changing Global Arms Control Norms: Prospects and Challenges"
Tuesday, July 21, 2020
The Arms Control and Disarmament Centre (ACDC) at the Institute of Strategic Studies Islamabad (ISSI) organised a Webinar on Changing Global Arms Control Norms: Prospects and Challenges on July 21, 2020. The webinar brought together distinguished national and international speakers and experts on the issue.
While welcoming the guests, Ambassador Aizaz Ahmad Chaudhry, Director General ISSI, said that the global arms control normative order is under immense strain. It is imperative to identify the issue areas where the existing arms control regimes have achieved and where have these failed. A sustainable arms control order for the 21st century must accommodate this changing global power dynamics. He suggested that every nuclear state would need to work out how to adapt nuclear arms control regimes to which they are parties to new realities. In these unsettling times when unilateralism is on the rise and multilateralism on the retreat, states must show similar political will, resilience, patience, determination, and commitment with which they concluded landmark agreements in the past, he added.
During his introductory remarks, Malik Qasim Mustafa, Director ACDC-ISSI, highlighted that world is witnessing a shift in global arms control norms, and the existing arms control mechanism is being termed as "outdated" and "exhausted." He said that major powers have pulled out of key arms control treaties; new international and regional arms races are picking up paces; states have increased their military spending; major powers are expanding their nuclear weapons programmes and a technology-driven competition is dominating the cyberspace and outer space. These changing norms will impact regions like South Asia, which is home to two nuclear powers. The massive Indian military modernisation drive would also fuel a new arms race, which could undermine deterrence stability in South Asia.
In her briefing, Ms. Aamna Rafiq, Research Associate at the ACDC-ISSI, highlighted the role of military modernisation and weaponization of emerging technologies like lethal autonomous weapons systems (LAWS) and cyber in the great power competition and changing global arms control normative order. She said that great powers are trying to enhance their technological competitive edge and starting a new arms race to gain strategic superiority and then renegotiate nuclear arms control agreement. This transitional phase of massive military modernization at the global level will also affect the peace and stability in South Asia, she added.
Mr. Tariq Rauf, former Head of Verification and Security Policy Coordination, International Atomic Energy Agency (IAEA), in his remarks on "Changing Global Arms Control Norms: Chances of Great Power Competition?" said that the post-WWII system is becoming dysfunctional and the structure of international organisations including the UNSC no longer reflects the current distribution of power. Terrorism, nationalism, and tribalism are on the rise at the global level. The global arms control normative order is eroding and the existing regime is not sufficient to handle the emerging technologies like cyber, artificial intelligence and hypersonic missiles. The global system is converging G-0 system where there will be no dominant power but there will be rivalry and competition.
Mr. Zhou Chang, Director and Research Fellow, China Arms Control & Disarmament Association (CACDA), while speaking on "Changing Global Arms Control Norms: Prospects of Engagement" said that reemergence of great power rivalry, the collapse of bilateral arms control arrangements between the US and Russia, and advancements in the field of emerging technologies like outer space, cyber and artificial intelligence are three major challenges to global strategic stability. He also highlighted the ethical and moral challenges posed by the advancement and military application of gene-editing technology. These challenges could be mitigated through the promotion of cooperative security, maintaining existing arms control regime, and regulating emerging technologies.
Mr. Michael Krepon, Co-founder and Distinguished Fellow, Stimson Centre, in his remarks identified the key norms of the arms control regime. He said that despite the absence of a binding international treaty, the norm of 'no battlefield use' of nuclear weapons is in practice since 1945. The nuclear weapons are stigmatized to an extent that no state has tested nuclear weapons in the last twenty year. However, arms control norms do not guarantee durable peace. States want to strengthen themselves by producing more weapons. Deterrence needs reassurance in order to be safe and credible. The global security should be enhanced in other ways like diplomacy.
While expressing his view on prospects and challenges for Pakistan, Mr. Usman Iqbal Jadoon, Director, Ministry of Foreign Affairs (MOFA), Pakistan identified four challenging trends: military modernization; new weapon systems; institutional decay and lack of disarmament. Talking about the impact of these challenges on South Asia, he said that the first wave of weaponization has not yet ended in South Asia. India is modernizing its existing traditional weapons and actively pursuing the new exotic weapons like LAWS and cyber weapons. India's great power ambitions and hegemonic designs are self-evident. India is actively building its triad and perfecting second-strike capability. Pakistan must take a cautious approach and exercise restraint but not at the cost of deterrence stability.
Concluding the webinar, Ambassador Khalid Mahmood, Chairman BOG ISSI, said that the arms control norms had played a decisive role in achieving international peace and stability throughout history especially during the Cold War. The two superpowers codified their shared understanding of arms control. Today, this global arms control normative order is eroding. The contributing factors are great power competition, the US obsession of including China in trilateral arms control agreement, the increasing the US disregard for international law, and focus on unilateralism instead of multilateralism. The webinar included an interactive session in which national and international experts actively participated.