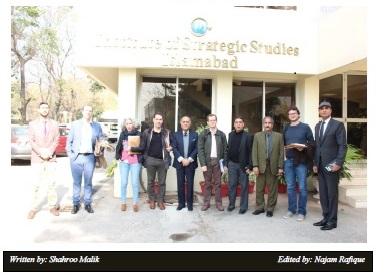 The Institute of Strategic Studies Islamabad (ISSI) held an In-House meeting with a 5-member French Media Delegation on January 8, 2018. The members of the French delegation included: Mr. Jacques Follorou, Chief Editor/Writer, Le Monde; Mr. Emmanuel Derville, Correspondent (New Delhi based), Le Figaro; Ms. Karen Lajon, Grand Reporter, International Desk, Le Journal du Dimanche; Mr. Joris Fioriti, Correspondent, AFP and Mr. Michel Scott, Senior International Correspondent, TF1 (TV Channel).
Ambassador Khalid Mahmood, Chairman ISSI, welcomed the delegation and emphasized on Pakistan bilateral ties with France. He said that this meeting would be an interactive session to discuss the regional dynamics of South Asia, including the state of affairs in Afghanistan, Pakistan-US relations, Pakistan-India bilateral relations, counter-terrorism initiatives by Pakistan and China-Pakistan Economic Corridor (CPEC).
Mahrukh Khan, Research Fellow at ISSI, while briefing the delegation on Pak-US relations and recent suspension of US security aid to Pakistan, stated that Pakistan has been accustomed to the tone which was building up as for the past few months. She pointed out that US officials have been visiting Islamabad to persuade Pakistan to support the new shift in the US policy, evident in the Afghan strategy. She informed that the only positive thing that we saw in these visits was the desire to work on a common ground, but major differences between America and Pakistan exist. Pakistan is looking for a peaceful way out of Pakistan which provides a wining situation for all the parties, whereas the attitude of US is very different. This is also evident from the strategies the US is pursuing and the partners and allies it has chosen in the region. It has chosen India as its strongest and natural ally, encouraging its role in regional security calculus and in Afghanistan as well.