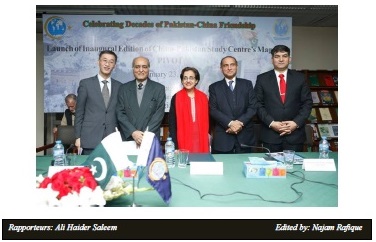 The Institute of Strategic Studies Islamabad (ISSI) hosted the inauguration and launch of the China Pakistan Study Center's (CPSC) magazine 'Pivot' on January 23, 2019. Ms. Tehmina Janjua, Foreign Secretary, Ministry of Foreign Affairs Pakistan was the Chief Guest at the occasion.  The event was also graced by H.E. Yao Jing, Ambassador of the People's Republic of China. The launch was attended by academics, students, ambassadors and media personnel.
'Pivot' is a quarterly magazine which projects Pakistan-China relations and developments in diverse spheres such as policy, economy, culture, tourism and people-to-people exchanges. It is the latest addition to ISSI's list of publications and will be published quarterly.
In his welcome remarks, Director General ISSI, Ambassador Aizaz Ahmad Chaudhry talked about strengthening of ties between the two countries and extension of cooperation into multiple areas. He posited that China-Pakistan Economic Corridor (CPEC) and the Belt and Road Initiative (BRI) stand for a stronger voice for globalism and seek to connect countries and communities especially at a time when we are noticing the rise of anti-globalism forces on the world stage. Pakistan and China are engaged in concrete cooperation in multiple domains, however, there are negative forces at play and considerable propaganda has been unleashed to undermine this cooperation between the two countries. It is important to counter this propaganda through continuous dialogue and evidence based research, and most importantly, advocacy of the significance of this vital relationship. It is in this context that the CPSC has embarked on an initiative to create awareness of the importance and utility of cooperative projects between Pakistan and China. The magazine that is being launched today covers the dynamic nature of this relationship and also highlights the progress made by the two countries collectively. This is a special addition to our list of publications at the Institute with twin objectives: the relationship should be projected in the correct perspective; and, we should counter the negative information.
Read More