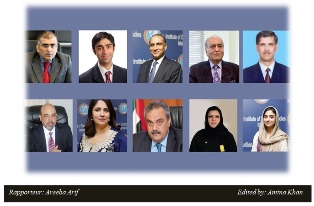 Centre for Middle East & Africa (CMEA) at the Institute of Strategic Studies Islamabad (ISSI) hosted a webinar titled, "Covid19 and Repatriation of Pakistani Workers: Socio-economic Implications" on June 4, 2020. The Keynote address was given by Dr Moeed Yusuf, Special Assistant to the Prime Minister on National Security Division and Strategic Policy while Ms. Amina Khan, Director CMEA gave her introductory remarks in the beginning of the proceedings. Ambassador Aizaz Ahmad Chaudhry, Director General Institute of Strategic Studies Islamabad delivered welcome remarks at the occasion. Other speakers included Mr. Kashif Ahmed Noor, Director General Bureau of Emigration and Overseas Pakistanis; Mr. Salman Athar, Director General Crisis Management Unit, Ministry of Foreign Affairs; Dr Amer Sheikh, Managing Director Overseas Pakistani Foundation; Senator Sehar Kamran, Patron-in-Chief, Centre for Pakistan and Gulf Studies (CPGS) and Ambassador Asif Durrani, former Ambassador to the UAE and Iran.
The webinar was moderated by Ms. Amina Khan, Director CMEA, ISSI.
Introducing the subject of the webinar, Ms. Amina Khan said that this was a subject that has disturbed the political, social, economic, religious and financial structures of the whole world. Bringing our people back home in these times of adversity requires unprecedented dedication and vision which has been demonstrated by Prime Minister Imran Khan who has always raised his voice for the rights of overseas workers long before this outbreak had even begun. He has called them a 'national asset' and our treatment of them should be befitting of that. In this regard, it will be important to keep coordinating with countries in the Gulf and the Middle East for securing better conditions for Pakistanis working there, once we overcome this challenge.