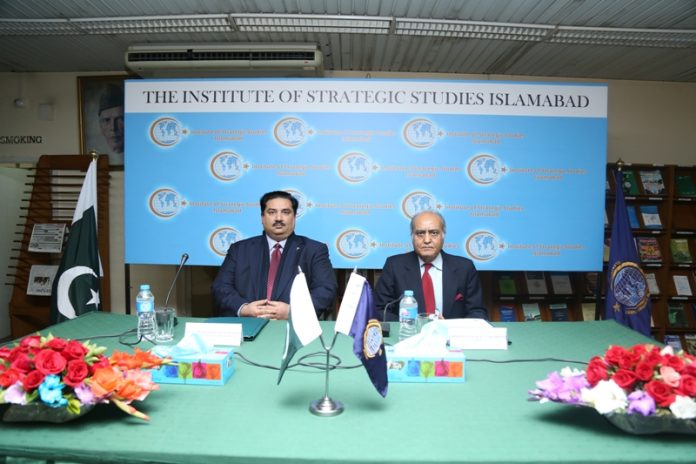 PRESS RELEASE
Public Talk
on
"Contours of Security Environment of Pakistan"
January 9, 2018
"Now all veils are off…It is time for a courteous yet ruthlessly candid dialogue between Pakistan and the United States". This was stated by Engineer Khurram Dastgir Khan, Federal Minister for Defense at a Public Talk on "Contours of Security Environment of Pakistan", organised by the Institute of Strategic Studies Islamabad (ISSI) today under its Distinguished Lecture Series.
Engineer Dastgir succinctly briefed the audience on the security landscape of Pakistan. He started with how the Pakistan Government has not only revitalized long standing relations with both Saudi Arabia and Turkey, but has also made progress with countries like Iran and Russia. About China, he remarked that as the China-Pakistan Economic Corridor materializes, relations between the iron brothers are further firming up.
With regard to India, he said that Delhi has an unremitting hostile stance and is a belligerent and highly militarized neighbor. The Cold Start doctrine against Pakistan has already been confirmed previously by Delhi. The past year was the deadliest yet for Indian violations on the LOC. Justice, the Minister said, cannot be delivered on Mumbai alone, it has to be delivered on Samjhauta Express also. He stated that for nearly two decades, the United States has deemed India as an ally to counter China and has been trying to convince Pakistan that India is not a threat. However, he said that threat is calculated on capacity, not intent, and both the capacity and intent of India is hostile towards Pakistan.
The minister went on to say that what we need to remember and fully internalize is that today's Pakistan is a post Operation Zarb-e-Azb Pakistan – which is one of the largest anti-terror operations in the world. The way forward is not through threats, notices or suspensions of supports. This distracts everyone from, the prize which is sustainable peace in a democratic Afghanistan. While this remains on the highest agenda of Pakistan's foreign policy, Pakistan remains adamant that the Afghan war will not be fought on Pakistani soil. It is convenient to blame Pakistan for cross-border terrorism, where the US has not lifted a finger to help fence-up the border. Pakistan sees Afghanistan as a sovereign neighbor and wishes to see its neighbor prosper as a democracy. The recent suspension of military aid by the US comes in the wake of a more grave suspension, which is suspension of the strategic dialogue for more than a year between the US and Pakistan. He ended his speech by stating that we need choose cooperation over castigation and the resilient democracy of Pakistan will continue to rise.
Earlier, Ambassador Khalid Mahmood, Chairman ISSI, in his welcome remarks said that the security for an individual or a state is a continuous process. Ever since its inception, Pakistan has grappled with security issues – security has been the top priority on its national agenda. Pakistan's internal difficulties have been exacerbated by spy networks. Dealing with a huge number of Afghan refugees and ever increasing LOC violations has meant that Pakistan's security environment has continued to remain under stress. Unfortunately, President Trump blames Pakistan for the United States' failure to bring about peace in Afghanistan. President Trump's outburst has invoked a huge frenzy, and his ill-considered approach toward Pakistan is being criticised within the US as well. As fate would have it, Pakistan's geographical location dictates that its security environment is of vital importance to the entire region.
Later, in his concluding remarks, Ambassador Mahmood stated that Pakistan and the US have always had a transactional relationship. Even though the relationship is at its lowest, we should continue to keep the lines of communication open and find whatever common ground that exists. Concluding on an optimistic note, Ambassador Mahmood said that as in the past, Pakistan would weather this storm as well.