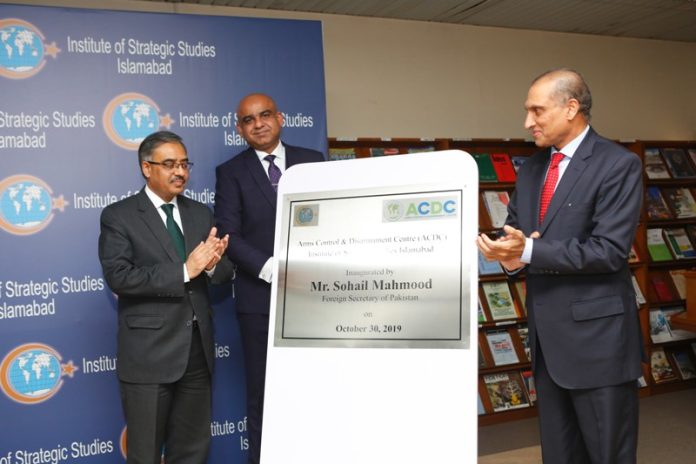 Press Release

Inauguration of Arms Control & Disarmament Center (ACDC)
Institute of Strategic Studies, Islamabad
October 30, 2019
"For the credibility of any non-proliferation regime, an even handed approach is required. Discrimination and deviation from established non-proliferation standards should be done away with. Sideways, a healthy link between academia and policy makers is indispensable". This was stated by Mr. Sohail Mahmood, Foreign Secretary, Ministry of Foreign Affairs (MOFA), Pakistan who was the Chief Guest at the inauguration of the Arms Control & Disarmament Center (ACDC) at the Institute of Strategic Studies Islamabad (ISSI) today.
Mr. Sohail said that the international security environment is in a flux. The long standing arms control agreements are unraveling and the concept of strategic stability is being challenged by newer notions. Hence, given the security situation in South Asia, it is important for researchers to be cognizant of these new developments. Non-proliferation cannot be achieved in a vacuum. Necessary conditions need to be created to ensure equality in all states. Pakistan desires peace and stability in the region. At the global level, Pakistan continues to actively support non-proliferation. The Foreign Secretary concluded by expressing hope that ACDC would generate focused research and quality analysis on pressing issues and provide valuable contributions to the policy discourse on this important subject.
Mr. Muhammad Kamran Akhtar, Director General, Arms Control and Disarmament Division (ACDIS); Brig. Zahir Kazmi, Director General, Arms Control and Disarmament Affairs (ACDA), Strategic Plans Division (SPD) and Mr. Khalil-ur-Rahman Hashmi, Permanent Representative Designate of Pakistan to the United Nations in Geneva also spoke at the occasion.
Air Commodore (Retd) Khalid Banuri; Dr. Rizwana Karim Abbasi, National University of Modern Languages (NUML); Dr. Muhammad Khan, International Islamic University, Islamabad (IIUI) ; Dr. Tughral Yamin, Centre of International Peace & Stability (CIPS), NUST; Dr. Maria Sultan, South Asian Strategic Stability Institute (SASSI); Dr. Zafar Nawaz Jaspal, Quaid-i-Azam University (QAU); Ambassador Ali Sarwar Naqvi, Center for International Strategic Studies (CISS) and Mr. Zafar Ali, MOFA (DG- SECDIV) were on the list of special invitees. The inauguration was also attended by former Pakistani military officers and ambassadors, members of the diplomatic corps, academia, think tanks, students and the media.
Commencing the event, Mr. Malik Qasim Mustafa, Director, ACDC said that despite the rapidly changing international security environment, Pakistan as always, still supports international arms control and disarmament instruments consistent with its national interest and is committed to promoting regional peace and strategic stability. He went on to introduce the work plan of the center – the task of which will include monitoring regional and international developments pertaining to strategic stability, organize dialogues, and disseminate information through research projects.
During their comments, the speakers talked about how Pakistan is in a region where the security dynamics are constantly changing. Resumption of dialogue and respect of existing treaties is very important at this time. They said that the launch of the ACDC comes at a crucial time when states are abandoning arms control. The ACDC can use this reprieve to study new techniques and recommend measures to reduce nuclear risk, they said.
Earlier, in his welcome remarks, Ambassador Aizaz Ahmad Chaudhry, Director General, ISSI briefly described the workings of the Institute and highlighted ISSI's activities past, present and future. He said that nuclear deterrence is of immense importance for Pakistan, especially given the ever-present threat from the eastern front. He emphasized that the idea behind creating the ACDC was to redeploy the existing human resource in ISSI to gain more from less through focused quality research. The end goal is to build a positive narrative about Pakistan, he said.