Press Release
CPSC 2nd Advisory Board Meeting
May 25, 2022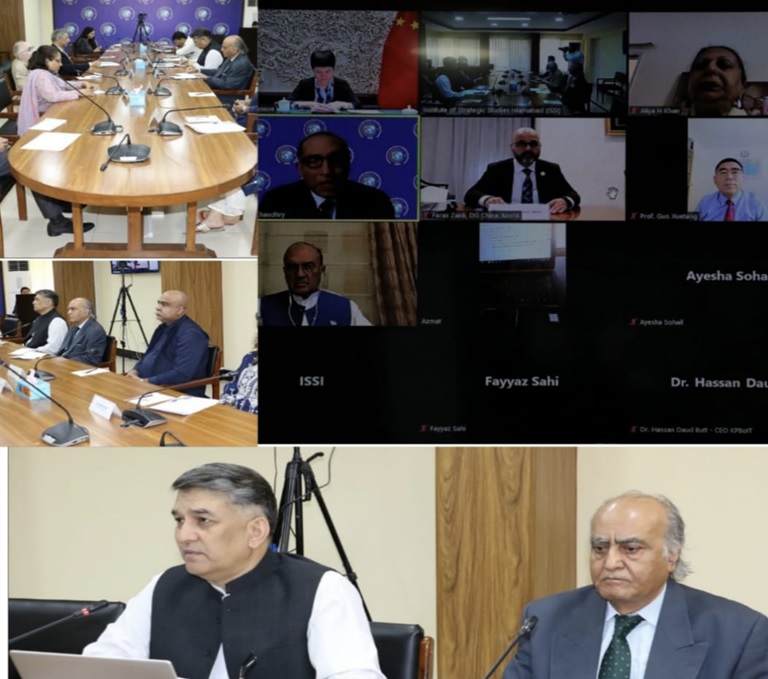 "Pakistan and China are two close friends and have shared future. Despite changes in international system, they continue to work", said the Chargé d' Affaires of the Chinese Embassy in Pakistan, Ms. Pang Chunxue. She appreciated CPSC in promoting Pakistan-China relations and reiterated that the Chinese embassy will continue to support the China Study Centres. She was speaking at the 2nd Advisory Board Meeting of CPSC held on May 25th, 2022.
The members of advisory board comprised of: Ms. Pang Chunxue, DCM, PRC Embassy; Mr. Faraz Zaidi, DG China, MOFA; Amb Naghmana Hashmi, Former Ambassador to China; Amb Masood Khalid, Former Ambassador to China; Dr. Ayesha Sohail, Registrar, AJK University, Muzaffarabad; Mr. Ziad Alahdad, Former Director of Operations,World Bank; Prof. Dr. Attaullah Shah, VC Karakorum University, GB; Lt Gen (Retd). Naeem Khalid Lodhi, Former Minister of Defence; Mr. Qazi Azmat Isa, Chief Executive, Pakistan Poverty Alleviation Fund; Dr. Hasan Daud Butt, CEO KPK Board of Investment; Dr. Guo Xuetang, Shanghai University of International Business and Economics, China; Dr. Safdar Sohail, Executive Director, Social Protection Resource Centre; Dr. Fayyaz ul Hassan, Dean, Arid Agriculture University Rawalpindi; Major General (R) Muhammad Samrez Salik, Former DG ISSRA, NDU.
Director General ISSI, Amb. Aizaz Ahmad Chaudhry welcomed the esteemed guests and then invited Director CPSC, Dr. Talat Shabbir to apprise the members of advisory board members of the work done by CPSC in 2021 and its plan of action in 2022. The members commended the Centre for its work and made valuable suggestions for the regarding research and advocacy works of CPSC.
Amb. Aizaz A. Chaudhry thanked the distinguished guests for their participation and Chairman BoG ISSI, Amb. Khalid Mahmood, delivered concluding remarks.