Press Release
ISSI's Second Thought Leaders Forum (TLF)
October 20, 2022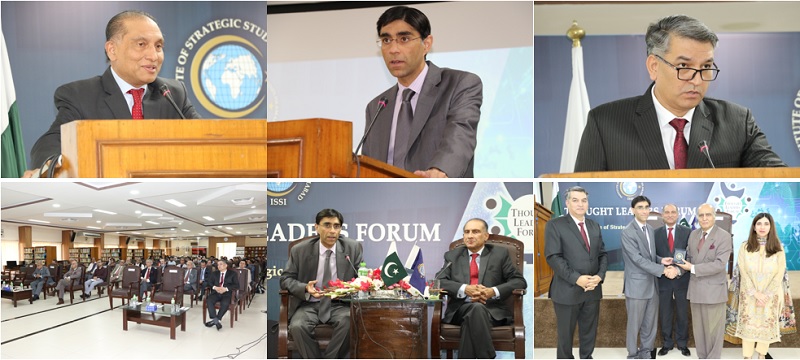 "The conversations on trade, regional and global connectivity needs to be improved and should be more insightful with less rhetoric" was said by the keynote speaker Dr. Moeed Yusuf while addressing the Thought Leaders Forum (TLF)
The Institute of Strategic Studies Islamabad (ISSI) organized its second TLF on October 20, 2022 at 14:00 hrs under title, "Significance of National Security Policy in the Changing Geopolitical Situation." Dr. Moeed Yusuf, former National Security Advisor and Special Advisor to the Prime Minister on National Security and Strategy Planning was the keynote speaker.
Ambassador Aizaz Ahmad Chaudhry, Director General, ISSI in his welcome remarks highlighted the relevance of the topic chosen for discussion. Earlier, Dr. Talat Shabbir, Director China-Pakistan Study Centre, in his introductory remarks apprised the audience about the significance of TLF.
Dr. Yusuf in his address stressed upon the need of ensuring economic and human security in the country. For this purpose, he stated that we need to focus on prioritizing our policies, redistribute our resources, and ensure the continuity of policies with a special focus on economic diplomacy.
His address was followed by a Q & A session on a wide range of topics including national economics; climate change; food and water security; governance model; population growth and growing debt crisis in the country.
Towards the end, Ambassador Khalid Mahmood, Chairman, BOG ISSI, presented ISSI's souvenir to the keynote speaker. The event was received well across the board.