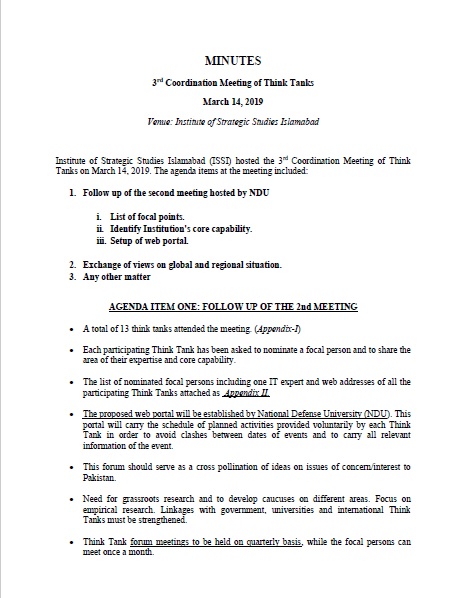 MINUTES
3rd Coordination Meeting of Think Tanks
March 14, 2019
Venue: Institute of Strategic Studies Islamabad
Institute of Strategic Studies Islamabad (ISSI) hosted the 3rd Coordination Meeting of Think Tanks on March 14, 2019. The agenda items at the meeting included:
Follow up of the second meeting hosted by NDU
      i.  List of focal points.
     ii.  Identify Institution's core capability.
    iii.  Setup of web portal.
Exchange of views on global and regional situation.
Any other matter
AGENDA ITEM ONE: FOLLOW UP OF THE 2nd MEETING
A total of 13 think tanks attended the meeting. (Appendix-I)
Each participating Think Tank has been asked to nominate a focal person and to share the area of their expertise and core capability.