Press Release
China-Pakistan Study Centre (CPSC)
Book Launch Event
"چین ماؤ زے تنگ اور جدید"
"چینی کمیونسٹ پارٹی کا ترقیاتی مسائل کے حل کا انداز"
"قراقرم کے اس پار: چینی اور پاکستانی سکالرز کے درمیان ایک تصویری مکالمہ"
March 07, 2023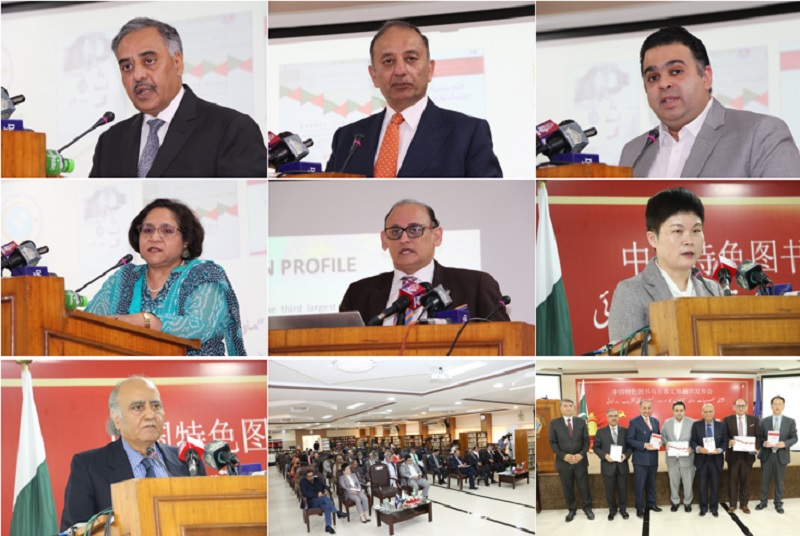 The China-Pakistan Study Center (CPSC) at the Institute of Strategic Studies Islamabad (ISSI) hosted a book-launch event of three books authored by Chinese writers and translated by Pakistani authors. The books include, "Mao Zedong and Contemporary China", "How the Chinese Communist Party Manages the Development Issue", and "Beyond the Karakoram: A Photographic Dialogue Between a Chinese and a Pakistani Scholar". The Chief Guest at the event was Senator Dr. Musadik Malik, Minister of State for Petroleum; Guest of Honour on the occasion was Mr. Fahd Haroon, Minister of State/SAPM on Public Communication and Digital Platform.
Ambassador Naghmana Hashmi, former Ambassador to China, and Dr. Hassan Daud Butt Associate Professor, Bahria University, reviewed the books. Dr. Talat Shabbir, Director of the China-Pakistan Study Centre, welcomed the guests and highlighted the significance of literature in building people-to-people contacts.
DG ISSI Ambassador Sohail Mahmood, in his remarks, underlined that Pakistan's relations with China were the "cornerstone" of its foreign policy. He highlighted the key features and growing trajectory of Pakistan-China 'All-weather Strategic Cooperative Partnership'; role of Chairman Mao in the Chinese revolution and China's modernization; the CPC's role in China's socio-economic development; and importance of further strengthening the Public Diplomacy dimension of Pakistan-China relations through such events.
Ambassador Naghmana Hashmi in her remarks stressed upon Mao's vision in reference to the book "چین ماؤ زے تنگ اور جدید". She argued that history has always been important in understanding modern China. The vision of the country is different from that of other nations worldwide. It is pertinent to seek the understanding of these philosophies that China follows in its journey towards prosperity. Ambassador Hashmi stated that when one is able to understand these philosophical concepts, one can predict where China is heading.
Dr Hassan Daud Butt in his detailed presentation highlighted the geo-strategic, geo-economic and geopolitical significance of China in current international politics. The Communist Party of China plays important role in leading the country in the right direction, he underlined, while citing examples from the book under review.
Ms. Pang Chunxue, Charge d' Affaires, highlighted the strong Pakistan-China relationship. Literature has always played a dominant role in understanding the visions of nations. These books translated into Urdu depict the commitments of both countries to understand each other. She stressed that such events would play a constructive role in expanding people-to-people exchanges.
SAPM Mr. Fahad Haroon acknowledged that China's current leadership is following what Mao had visioned decades earlier. He also reaffirmed Pakistan's commitment to further deepen and broaden the relations with China.
Senator Dr. Musaddiq Malik, in his address, shed light on the current international dynamics and how China is rising as a resilient nation under courageous and visionary leadership. He stressed that China's leaders have served in the best interests of their country and set a unique growth and development trajectory, which was something to be emulated.
At the closing of the event, Chairman BoG Ambassador Khalid Mahmood gave his concluding remarks, which were followed by a presentation of memento to the speakers.