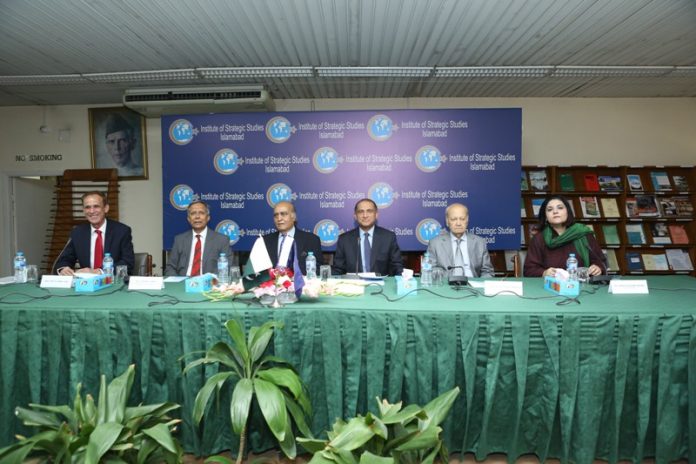 Press Release

Book Launch
of
"UN Peacekeeping Operations in Somalia 1992-1995: A Pakistani Perspective"
Institute of Strategic Studies Islamabad
April 10, 2019
The Institute of Strategic Studies Islamabad (ISSI) hosted a launch of the book titled UN Peacekeeping Operations in Somalia 1992-1995: A Pakistani Perspective, today. The book has been authored by Dr. Tughral Yamin, Associate Dean, Centre for International Peace & Stability, National University of Science & Technology (NUST). Commentators for the book included: Lt. Gen. (Retd.) Talat Masood, Defense Analyst; Dr. Arshi Saleem Hashmi, Head of Department, Peace & Conflict Studies, National Defense University (NDU) and Brig. (Retd.) Kamal Aziz.The launch was attended by foreign diplomats, scholars, journalists and students.
Introducing the book, Dr. Yamin gave due credit to various people who had helped in writing the book. He hoped that his book would become a textbook for UN Peacekeeping Missions. He went on to give a brief overview of Pakistan's Peacekeeping Missions in Somalia, and said that while the emphasis on military peacekeeping is declining, Pakistan needs to increase female presence in UN Peacekeeping missions, send in more police men and women and diplomats, and increase its reliance on technology. Most important of all, Pakistan needs to improve relations with Somalia.
Commentators for the book noted that the author has set a benchmark for people for sharing their experiences through writing books. They said that the book a unique addition to peacekeeping missions, and Pakistan should project its efforts like the West does.
Earlier, in his welcome remarks, Ambassador Aizaz Ahmad Chaudhry, Director General ISSI, said that Dr. Yamin has skillfully combined both geopolitical and tactical operational situation on ground at the time of the Somali civil war. He noted that the book exposes certain myths and describes in detail that it was not just US military that is indebted to Pakistan but also India, Belgium, Bangladeshi and Canadian troops who without Pakistani aerial backup, would not have survived deadly ambushes by Somali militias.
Ambassador Khalid Mahmood, Chairman BOG ISSI, in his concluding remarks praised the author for his wonderful book that attempts to deepen understanding about an important aspect of Pakistan's history of international military engagement and preserves the memory of events in 1992-1995 which will be very useful in studying other Pakistani contributions in peacekeeping missions abroad.