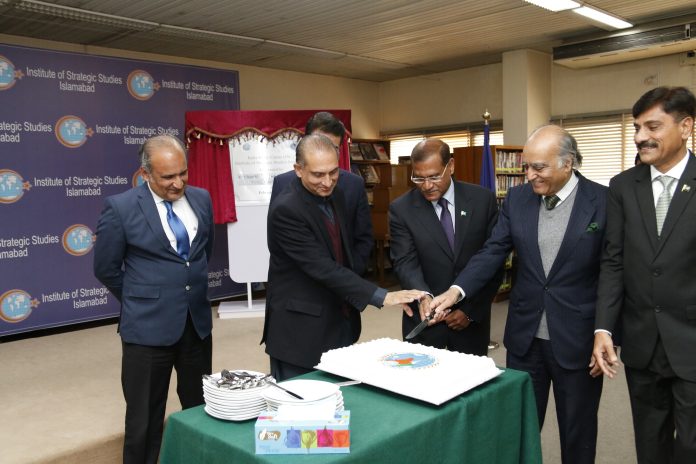 Press Release
Inauguration
"India Study Centre"
February 07, 2020
"The ground for hybrid strategy is ripe and this centre would carry out pioneer work by looking into those strategies." This was stated by Air Marshal Sohail Aman, former Chief of Air Staff who was the Chief Guest at the inauguration ceremony of India Study Centre (ISC) at the Institute of Strategic Studies Islamabad (ISSI) on February 7, 2020.
Other speakers at the occasion included: Dr. Mujeeb Afzal, Associate Professor Quaid-e-Azam University, and Ambassador Zahid Hafeez Chaudhri, Director General South Asia and SAARC at Ministry of Foreign Affairs.
Air Marshal Sohail Aman stated that the new ISC at ISSI has a huge task at their hand. You are dealing with a mindset that believes that as a democratic force, you can go and push Hindutva as a strategy in going anywhere and taking action. However, the ability of current leadership in India is actually converting the challenges faced by Pakistan into opportunities.
Addressing the gathering, Dr. Mujeeb Afzal said that what is happening in India needs to be studied in its own right. including the rise of its economic power, new evolving alliances and the competition between Hindus in India needs to be studied. A collection of indigenously collected data on India would not only help in conducting effective research, but would also go a long way in improving our understanding of India.
Ambassador Zahid Hafeez Chaudhri appreciated the Institute's commitment to carrying out focused research. He said that the Centre will find it useful to study the Indian propaganda machine to better understand as to how the perpetrator of state terrorism has been presenting itself as the victim of terrorism. It will also be useful to study as to how India has misled the international community for so long on the issue of state or non-state actors while using its serving officers such as Commander Kulbhushan Jadhev for terrorist activities in other countries.
Dr. Saif Malik, Director ISC in his introductory remarks noted that the Institute of Strategic Studies Islamabad has taken this lead of establishing the first India Study Centre in Pakistan. The aim of India Study Centre (ISC) is to conduct focused research and analytical studies on multi-dimensional aspects of India. ISC hopes to promote policy discourse on its foreign, security and socio-economic policies along with implications for Pakistan and the region, as well as India-Pakistan relations. The Centre will also focus on Kashmir besides monitoring developments related to India's regional and global policies. Contribution to the existing body of knowledge through evidence-based research by maintaining data bank on the multi-facets of India will be a significant task of ISC. In order to generate better understanding of the issues concerned, meaningful events will also be organized for policy discourse. Provision of policy input to the relevant stake holders will also be the hallmark of ISC in generating an informed debate on issues concerning India.
Earlier, in his welcome remarks the Director General ISSI, Ambassador Aizaz Ahmad Chaudhry stated that the Institute is dedicated towards quality of research, synergy and narrative projection. The India Study Centre will monitor Indian domestic, regional and international politics and would conduct focused research that would serve as the discourse for policy makers. In addition, it would also create a data bank that would be used as a benchmark for policy inputs.