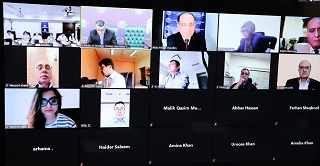 Press Release
ISSI-SIIS Virtual Dialogue
August 12, 2020
Institute of Strategic Studies Islamabad (ISSI) held a bilateral virtual dialogue with Shanghai Institutes for International Studies (SIIS) on August 12, 2020 via videoconferencing. Dialogue focused on exchange of views on international security, regional environment and Pakistan-China cooperation to advance peace and stability. Leading scholars, former diplomats and officials from both sides were invited to join the dialogue.
Ambassador Aizaz Ahmad Chaudhry, Director-General ISSI led Pakistan side, which included Ambassador Masood Khalid, Dr. Rifaat Hussain, Lt. Gen (R) Naeem Khalid Lodhi, and Dr. Saranjam Baig. Prof Chen Dongxiao, President SIIS led Chinese side comprising Dr. Wang Shida, Prof. Wu Chunsi, Prof. Zhang Jiadong and Prof. Wang Xu. Ambassador Khalid Mahmood, Chairman BoG-ISSI delivered vote thanks, while Dr. Talat Shabbir, Director CPSC made introductory remarks.