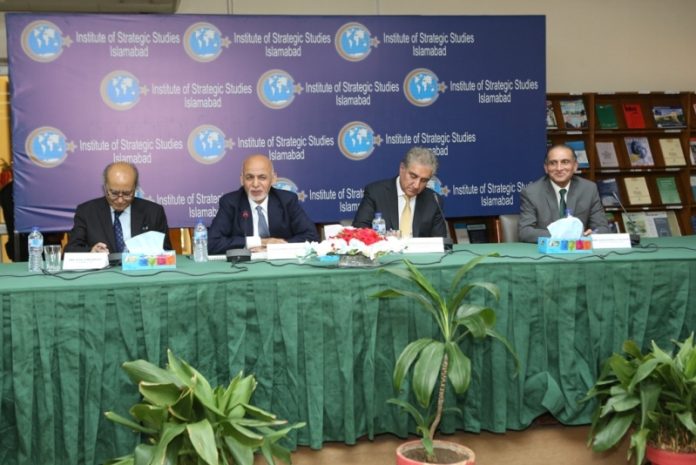 PRESS RELEASE
Public Talk
Guest Speaker
Mr. Mohammad Ashraf Ghani
President Islamic Republic of Afghanistan
June 27, 2019
"Knowledge of each other and knowing how we complement each other is important for bilateral relations. In order to move forward, we need to adhere to a good strategy which requires three things: clarity of vision, an analysis of the conditions of today, honestly, carefully and systemically, and development."  This was stated by Mr. Mohammad Ashraf Ghani, President Islamic Republic of Afghanistan, during his address at a Public Talk organized by the Institute of Strategic Studies Islamabad (ISSI) today under its Distinguished Lecture Series. The Foreign Minister of Pakistan, Honourable Makhdoom Shah Mehmood Qureshi and Advisor to the Prime Minister for Commerce, Investment, Industries & Production and Textile, Mr. Abdul Razak Dawood were also in attendance. Members of the diplomatic corps in Islamabad, academics, civil society, and former and current diplomats were also present.
Mr. Ghani stated that stability and prosperity are linked in order to achieve mutual sovereignty. It is important to make history by overcoming the past. Two items are crucial for the Afghan Government : to normalize relations with Pakistan, and to find a political solution to the conflict in and around Afghanistan. He spoke about regional connectivity and said a sovereign Afghanistan will be a partner of Pakistan in reduction of poverty, overcoming institutional difficulty. "You become our partners in peace and the rest of the agenda will fall  into place" he said. He talked about the Turkmenistan–Afghanistan–Pakistan–India Pipeline (TAPI), calling it a breakthrough project, for which financing has been secured, and work will begin in Afghanistan soon. He pointed out that the ports of Gwadar and Karachi can become the choice of Central Asian firms. The existing system of railways is sufficient for this, he pointed out. Private investment, grants, loans and bonds and joint budgetary commitments are important and task forces at both the leadership and administrative levels should be in place. "The real test will come in the common collective will to move forward, put an end to the vicious circle of the past blaming and focus on cooperation," he said.
During his remarks, Shah Mehmood Qureshi said that President Ghani's visit to Pakistan comes at a very crucial time in Pakistan. The future of both countries are interlinked as are the challenges they both face. The leadership of both sides have a  responsibility for the betterment of their people. "We cannot achieve what we want to achieve unless there is peace. To achieve peace we need each other," he said. We in Pakistan are very clear in our objective -we see our betterment in a peaceful stable Afghanistan. Connectivity can bring prosperity not just to this region, but to our countries. "Pakistan will do all it can to encourage the peace process and facilitate the intra-Afghan dialogue which we feel is essential."
Earlier, in his welcome remarks, Director General ISSI, Ambassador Aizaz Ahmad Chaudhry spoke about the work being done by ISSI in the fields of security and foreign policy. He said that the Institute also has established linkages with similar institutions around the world and hoped that the think tanks in Afghanistan would find it convenient to establish linkages with ISSI.
While concluding the talk, Chairman BOG ISSI, Ambassador Khalid Mahmood said that bilateral relations between Pakistan and Afghanistan are making progress, and the peace process is moving forward. Pakistan is committed to the promotion of peace and cooperation with Afghanistan. He said that President Ghani's visit is significant, and will provide an important impetus for the improvement of bilateral relations of the two countries.