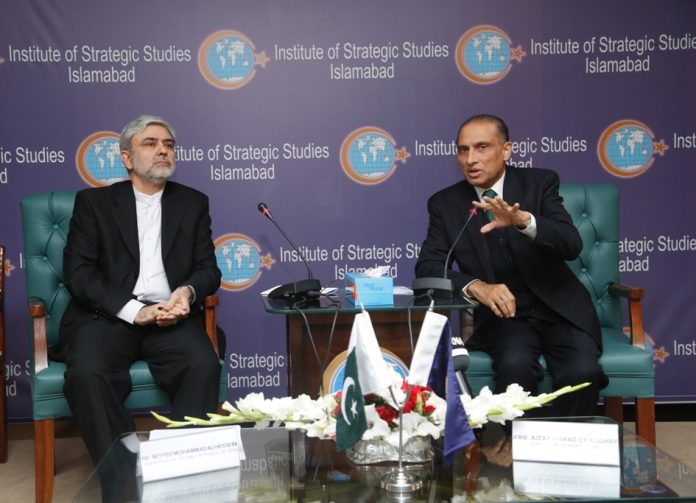 "Iran will never allow its soil to be used against any of its neighbouring countries especially Pakistan." This was stated by H.E. Seyyed Mohammad Ali Hosseini, Ambassador Islamic Republic of Iran, during his address at a Public Talk on "41st Anniversary of Victory of Islamic Revolution and Pakistan-Iran Relations." The event was organised by the Institute of Strategic Studies Islamabad (ISSI) today under its Ambassador's Platform 2020. Policymakers, diplomats, academics and students were present on the occasion.
Ambassador Hosseini listed several potential areas of cooperation between Iran and Pakistan including: OIC, ECO, D-8 Group, Iran-Pakistan gas pipeline project, establishment of border markets, Gwadar and Chabahar ports and bilateral political cooperation on regional irritants, especially in Afghanistan.He said that Iran welcomes the China-Pakistan Economic Corridor (CPEC) projects and has announced its willingness to participate in these projects.He further emphasised that cooperation among countries like Iran, Pakistan, China, Russia and Turkey would be highly fruitful for peaceful resolution of regional issues. He welcomed Pakistan's mediation efforts with Saudi Arabia and announced Iran's readiness to engage in direct or indirect talks with Saudi Arabia in Tehran, Riyadh or Islamabad. On the Kashmir issue, he assured that the Iranian Supreme Leader's support has always been unwavering. Regarding the Iranian nuclear deal; he stated that Iran has not abandoned the multilateral framework and that the US sanctions have been equivalent to harsh 'economic terrorism.'
Earlier, in his welcome remarks, Ambassador Aizaz Ahmad Chaudhry, Director General ISSI, said that Iran and Pakistan are not just two just neighbours but two nations tied by history, faith, art, culture and literature. He pointed out that Iran is held in high esteem in Pakistan and that its rich culture distinguishes it from other countries. Ambassador Chaudhry said that Iran had come a long way since the Islamic revolution of 1979, braving several challenges with great resilience without compromising on its core values and principles. He also reiterated that while Pakistan values its ties with Iran; it also attaches prime importance to its close relationship with Saudi Arabia and, hence, Pakistan's mediation efforts in this context have been for the larger interest of the Muslim Ummah and greater regional stability.
In his concluding remarks, Ambassador Khalid Mahmood, Chairman BOG ISSI, described the Iran-Pakistan relations as an enduring reality which can only be realised through robust economic and commercial cooperation on all levels.