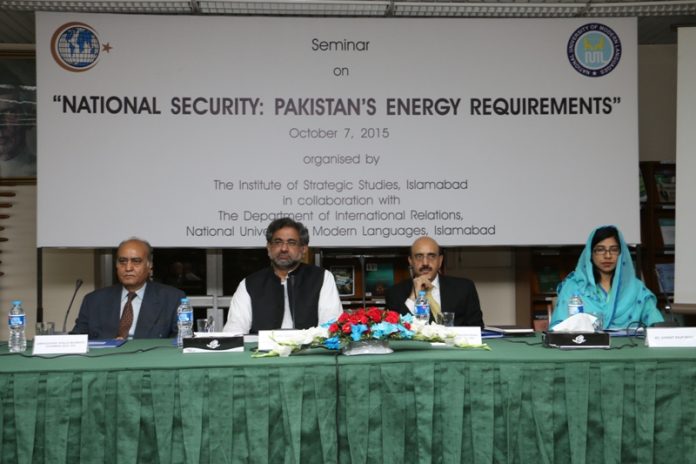 Press Release by the Institute of Strategic Studies, Islamabad
Seminar on
"National Security: Pakistan's Energy Requirements"
October 7, 2015, Islamabad
The energy crisis that is facing the country today is fairly complex; not only is there severe shortage of energy, there are also issues of governance such as poor transmission and regulation. The present government, however, is fully committed to fixing this crisis through both short-term and long-term measures. The most feasible, economical and efficient solution to this crisis is gas. And the government is working hard to make more gas available for the energy generation: it is not only importing Liquefied Natural Gas (LNG) but has also redoubled its efforts at domestic exploration of gas.
This was stated by Mr. Shahid Khaqan Abbasi, Federal Minister for Petroleum and Natural Resources while inaugurating a seminar on "National Security: Pakistan's Energy Requirements" on October 7, 2015. The seminar was organized by the Institute of Strategic Studies, Islamabad (ISSI), in collaboration with the Department of International Relations, National University of Modern Languages (NDU), Islamabad.
The inaugural session was also addressed by Khawaja Muhammad Asif, Federal Minister for Water and Power, who dispelled the notion that Pakistan should prioritize hydel power, arguing that hydel power cannot be the base-load because it is not available throughout the year. Other sources such as gas, coal and nuclear are far more reliable and qualify to be the base-load for Pakistan's energy supply for their better reliability and efficiency. Nuclear power plants, for example, have achieved 86% efficiency in recent years in Pakistan.
Earlier, in his welcome remarks, Director General, ISSI, Ambassador Masood Khan, said energy has become a national security issue for Pakistan. It is also a political, economic and social issue. Availability of energy resources is crucial for spurring our industry, accelerating agricultural growth, meet consumer demands, mobilize domestic investment, and attract foreign direct investment. We also need more energy to create more jobs and start new businesses. Sufficient and secure supply of energy would ensure high rate of economic growth and exports.
The seminar was also addressed by Mr. Zafar Mahmood, Chairman WAPDA, Mr. Akhtar Ali, Member (Energy) Planning Commission, Dr. Ansar Parvez, former Chairman Pakistan Atomic Energy Commission, Mr. Khalid Banuri from Strategic Plans Division, Dr. Samar Mubarakmand, former Chairman National Engineering and Scientific Commission (NESCOM), Mr. Amjad Ali Awan, CEO Alternative Energy Development Board, Ambassador Ali Sarwar Naqvi, Center for International Strategic Studies, Dr. Abid Suleri, Sustainable Development Policy Institute, Engineer Imtiaz Ali Qazalbash, Mr. Shaha Jahan Mirza, MD, Private Power and Infrastructure Board, Ms. Sarwat Rauf Rana, NUML, and Ambassador Khalid Mahmood, Chairman BOG, Institute of Strategic Studies, Islamabad. Ambassador Khalid Mahmood also chaired one of the sessions of the conference.