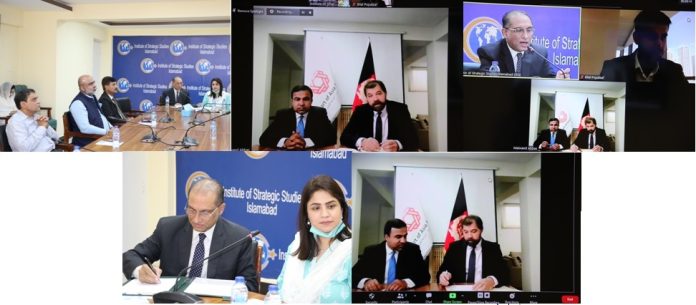 Press Release
Institute of Strategic Studies (ISSI) and the Heart of Asia Society (HAS), Kabul, Afghanistan signed an MOU on October 20, 2020
Institute of Strategic Studies (ISSI) represented by its Director General, Ambassador Aizaz Ahmad Chaudhry and Heart of Asia Society (HAS), Kabul, Afghanistan represented by its Co-Founder and President, Ambassador Jawed Ludin signed an MOU on October 20, 2020.
Ambassador Janan Mosazai,Co-Founder and Vice President HAS was also present on the occasion. Directors of the five Centres of Excellence at ISSI were also in attendance.
Cooperation between the two organizations concerns establishment and promotion of regular relationships in academic and research fields in an institutionalized framework.
Ambassador Aizaz Ahmad Chaudhry welcomed the signing of this MoU as a constructive and useful collaboration between ISSI and HAS and hoped that this association would produce quality research and dialogue for mutual benefit. He said the signing of this MoU was in step with the desire of both governments of Pakistan and Afghanistan and would supplement the efforts of further forging friendship between the two countries.
Ambassador Ludin said that it was a great pleasure to be signing this MoU on academic cooperation with a very respected institution such as ISSI. Through this MoU, he hoped that both HAS and ISSI would be able to cooperate on some of the priorities of mutual interest to Afghanistan and Pakistan and play a role in expanding the existing cooperation between the two nations.
Ms Amina Khan, Director, Centre for MiddleEast&Africa (CMEA), ISSI also spoke on the occasion. She hoped that this collaboration would benefit both sidesand enhance the bilateral ties between Pakistan and Afghanistan in a concrete manner which will translate into a fruitful partnership which is also mutually beneficial.