Press Release
Public Talk on
Future of Pakistan-Russia Relations
by
H.E. Danila Ganich,
Ambassador of the Russian Federation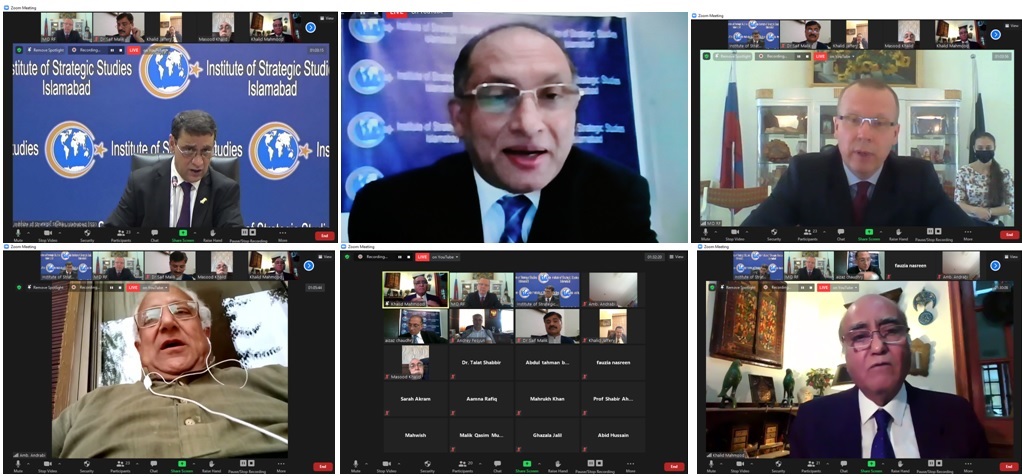 "Pakistan-Russia relations are developing at a normal pace, but change cannot be expected overnight. As far as the future of bilateral ties is concerned, it is promising." This was stated by Ambassador of the Russian Federation to Pakistan, H.E. Danila Ganich in a public talk on "Future of Pak-Russia Relations". The event was organized and hosted by Center for Strategic Perspective (CSP) at the Institute of Strategic Studies Islamabad (ISSI) on April 14, 2021.
Following an introduction by Director CSP, Mr. Najam, DG ISSI, Ambassador Aizaz Ahmad Chaudhry requested the Russian Ambassador to shed light on three major areas of interaction between Moscow and Islamabad: future of bilateral ties, particularly the most promising ones; areas of mutual interests; and, how think tank like ISSI can help strengthen the relations with a great country like Russia?
Responding to these three important aspects of Moscow-Islamabad ties, Ambassador Danila Ganich stated that the most promising areas of bilateral cooperation lie in the political arena, international affairs, Afghanistan, and multilateral foras such as United Nations (UN), Shanghai Cooperation Organization (SCO), and the Organization for the Prohibition of Chemical Weapons (OPCW). He said Afghanistan is an identical long-term area of interest since both states want a peaceful settlement of the Afghan problem without any external interference. Touching upon economic dimension, he said that Pakistan seems to be more inclined towards western markets and that is a big hindrance in tapping the true potential of economic cooperation. Language, he said, is another barrier to fruitful cooperation.
The talk was followed by a lively interactive question-answer session.
The talk concluded with a vote of thanks by Chairman BoG, ISSI, Ambassador Khalid Mahmood who said that Moscow-Islamabad ties have enormous potential of cooperation and emphasized the need to expand the ambit of bilateral collaboration under the umbrella of Shanghai Cooperation Organization.
Ambassador Danila agreed to a request by Mr. Najam to put CSP in touch with relevant think tanks in Russia.