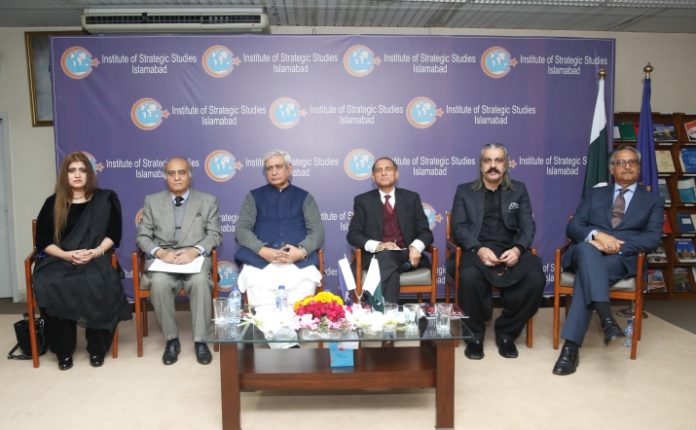 Press Release
Seminar
Pakistani and the Kashmir Cause
January 30, 2019
The Muslims of Indian Occupied Kashmir are facing the worst holocaust of the 21st century and it is time for international community and the United Nation to intervene on behalf of Kashmiris in support of their right of self-determination. India by unilaterally and illegally altering the status of Jammu and Kashmir by abolishing its special status has altogether changed the dynamics of Kashmir conflict. But the Kashmiri resistance is determined to face Indian brutalities and will not get intimidated.
These views were expressed by speakers at the Seminar organized by Institute of Strategic Studies Islamabad (ISSI) titled Pakistan and the Kashmir Cause on January 30, 2020. Syed Fakhar Imam, Chairman of the Parliamentary Committee on Kashmir was the Chief Guest at the occasion, while Mr. Ali Amin Gandapur, Federal Minister for Kashmir Affairs and Gilgit-Baltistan was the Guest of Honor. Other Speakers at the Seminar included former Foreign Secretary, Mr. Jalil Abbas Jilani and Dr. Maria Sultan, Director General of SASSI.
Mr. Ali Amin Gandapur in his remarks noted that Kashmiris have only suffered bloodshed, rape and torture under the Indian occupation, but their determination to gain freedom despite Indian atrocities will not be weakened. He was of the view that the international community should do more against India and reminded the audience that Pakistan's support for the Kashmir cause will not waiver. He praised the Institute of Strategic Studies Islamabad for the timely seminar on an important subject. Mr. Gandapur warned India that any military aggression against Pakistan will be met with more force and determination.
Syed Fakhar Imam gave the historic overview of the Kashmir dispute and how it has evolved over the years leading to recent Indian actions of revoking the special constitutional status of Indian Occupied Kashmir. He said that the Kashmir dispute was a colonial legacy where the British imperialists looted the rich Indian Subcontinent and laid roots of the Kashmir dispute. Mr. Imam was of the view that the recent Indian move in Kashmir is part of its larger domestic agenda of Hindu nationalism guided by Hindutva. Mr. Imam also warned that if India tried another "Pulwama attack", there will be a much bigger answer from Pakistan in response.
Earlier, in his welcome remarks, Director General ISSI, Ambassador Aizaz Ahmad Chaudhry extended a warm welcome to all the distinguished guests and speakers. Ambassador Aizaz said that ISSI is celebrating Kashmir Solidarity Day today and as per government's vision, conducting this seminar to express solidarity with our Kashmiri brethren. Ambassador Aizaz said that for years, Kashmiri patience has been tested severely. But since August 5, 2019 Indian action, their struggle has entered an entirely different phase as Modi has hit the Kashmiri identity. He said that international media has raised its voice against India and the global conscience has awoken to Indian actions in occupied Kashmir. Ambassador Aizaz said that Pakistanis stand with Kashmir struggle and we should give them a message of hope.
Ambassador Jalil Abbas Jilani shared his views on history of the Kashmir struggle and what challenges lies ahead. Ambassador Jilani noted that India has miscalculated the Kashmiri resolve and underestimated their resistance. He said that Kashmir will be the graveyard of Indian hegemony as Afghanistan was for world powers.
Dr. Maria Sultan pointed out that nearly nine million Kashmiris will be made stateless when the newly enacted draconian Indian citizenship laws will be applied to "bifurcated" states of Jammu and Kashmir Valley.
Ambassador Khalid Mahmood, Chairman BoG, ISSI in his concluding remarks said that Indian narrative on Kashmir has taken a major hit at the global stage, and with the enactment of the new citizenship laws, the image of Indian democracy has been exposed. The continuing resistance by Kashmiri Muslims against Indian brutalities is the only way forward. He thanked the speakers and the audience for taking time out and contribute to the national discourse on Kashmir. The seminar was well-attended by members of academia, Kashmiri leaders, students, media and the think tank community.