Signed an MOU with Institute of War and Peace Studies (IWPS), Kabul 
June 23, 2022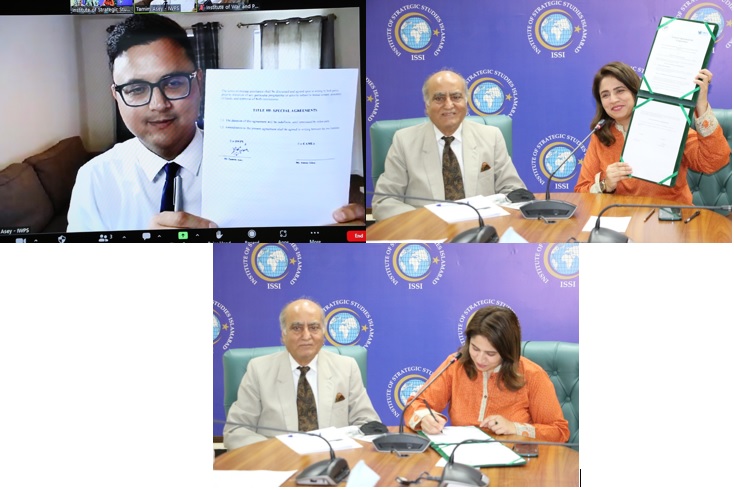 Centre for Afghanistan, Middle East and Africa (CAMEA) at the Institute of Strategic Studies Islamabad (ISSI) represented by its Director, Ms Amina Khan and the Institute of War and Peace Studies (IWPS), Kabul represented by its Executive Chairman, Mr Tamim Asey signed an MOU on June 23, 2022. Cooperation between the two organizations concerns establishment and promotion of regular relationships in academic and research fields in an institutionalized framework.
Chairman Institute of Strategic Studies, Islamabad (ISSI) Ambassador Khalid Mahmood welcomed the signing of this MoU as a constructive and useful collaboration between CAMEA and IWPS, extended his commendation to both directors and their teams and hoped that this association would produce quality research and dialogue for mutual benefit.
Mr Asey said that the entire team at IWPS looks forward to a fruitful partnership with both CAMEA and the Institute as a whole and hoped that they would be able to cooperate on some of the priorities of mutual interest to Afghanistan and Pakistan and play a role in expanding the existing cooperation between the two nations.
Ms Amina Khan, Director, CAMEA, hoped that this collaboration would benefit both sides and enhance the bilateral ties between Pakistan and Afghanistan in a concrete manner which will translate into a fruitful partnership which is also mutually beneficial.