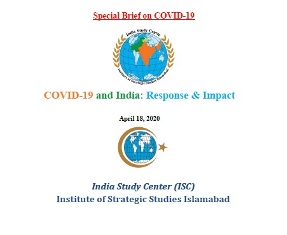 1. Covid-19 and Overall Scenario in India
Covid-19 also known as Coronavirus initially originated from the wet market of Wuhan, China and then gripped the whole world bringing daily life to a standstill. As the world goes into a lockdown, Covid-19 has severely started to impact national and global economies. Economies are shrinking and it is expected that half a billion people could be pushed into poverty due to this pandemic.[1] Similarly, India is also facing severe socio-economic challenges in its fight against Covid-19.
The first case of Coronavirus in India was reported on January 30, 2020 by Ministry of Health, but the concerned authorities showed little interest by saying that since the patient was a student from Wuhan so no local transmission has taken place yet. But the ongoing situation is quite different as the nation of 1.3 billion people is under complete lockdown in order to curb the rapid spread of the local transmission of the fatal virus. On March 24, Modi stated in his speech that a lockdown would come into force from midnight and be in place for three weeks. The decision was made overnight without any robust policy due to which the common man had to suffer badly. Poor Indian men and women travelled hundreds of miles to reach their native villages as the public transport system was stopped. As of April 09, 2020 the Indian Health Ministry had confirmed 5734 coronavirus cases and 166 deaths.