Press Release
Visit of the Nepalese Army Command & Staff College Delegation to Institute of Strategic Studies Islamabad
March 16, 2021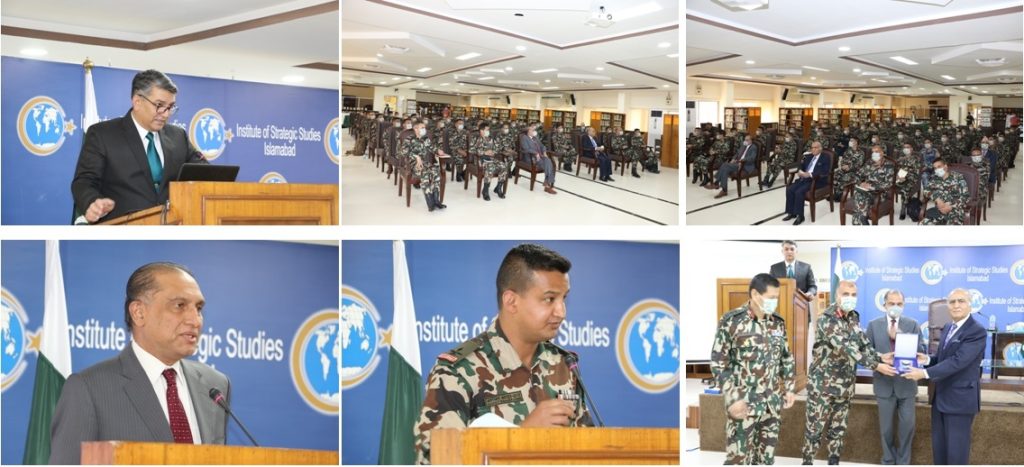 Institute of Strategic Studies Islamabad (ISSI) hosted 47-member delegation of the Nepalese Army Command & Staff College. Director General ISSI, Ambassador Aizaz Ahmad Chaudhry delivered a talk to the visiting delegates whereas the Chairman Board of Governors ISSI Ambassador Khalid Mehmood and Director India Study Centre of the ISSI Dr. Saif ur Rehman Malik were also present on the occasion.
Director China-Pakistan Study Centre, Dr. Talat Shabbir gave out welcome remarks and briefly introduced the objectives, scope and achievements of the Institute.
Ambassador Aizaz Ahmad Chaudhry briefly covered Pakistan's quest for regional connectivity. He highlighted the transformation in the foreign policy orientation of Pakistan from geo-politics towards geo-economics and the economic opportunities for the South Asian nations. He emphasized Islamabad's firm resolve in refraining from meddling in the domestic affairs of neighbouring countries. During his remark, Ambassador Aizaz underscored the pivotal importance of the South Asian region and expressed his concern over persistent lack of connectivity among its South Asian Countries. He also stressed that India needs to play a larger role by the virtue of its larger share of the landmass and economic power.
Later, Dr. Talat Shabbir moderated an interactive session, where officers from the Nepalese Army Command & Staff College actively participated. DG ISSI Ambassador Aizaz responded to the questions of the delegates. Major Shobit of the Nepalese Army thanked the Institute for making arrangements for the event.