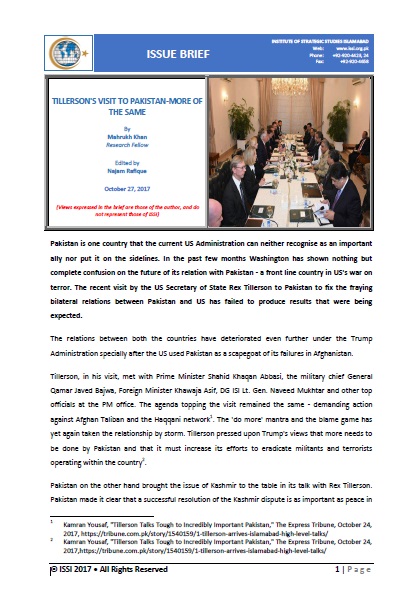 Pakistan is one country that the current US Administration can neither recognise as an important ally nor put it on the sidelines. In the past few months Washington has shown nothing but complete confusion on the future of its relation with Pakistan – a front line country in US's war on terror. The recent visit by the US Secretary of State Rex Tillerson to Pakistan to fix the fraying bilateral relations between Pakistan and US has failed to produce results that were being expected.
The relations between both the countries have deteriorated even further under the Trump Administration specially after the US used Pakistan as a scapegoat of its failures in Afghanistan.
Tillerson, in his visit, met with Prime Minister Shahid Khaqan Abbasi, the military chief General Qamar Javed Bajwa, Foreign Minister Khawaja Asif, DG ISI Lt. Gen. Naveed Mukhtar and other top officials at the PM office. The agenda topping the visit remained the same – demanding action against Afghan Taliban and the Haqqani network[1]. The 'do more' mantra and the blame game has yet again taken the relationship by storm. Tillerson pressed upon Trump's views that more needs to be done by Pakistan and that it must increase its efforts to eradicate militants and terrorists operating within the country[2].