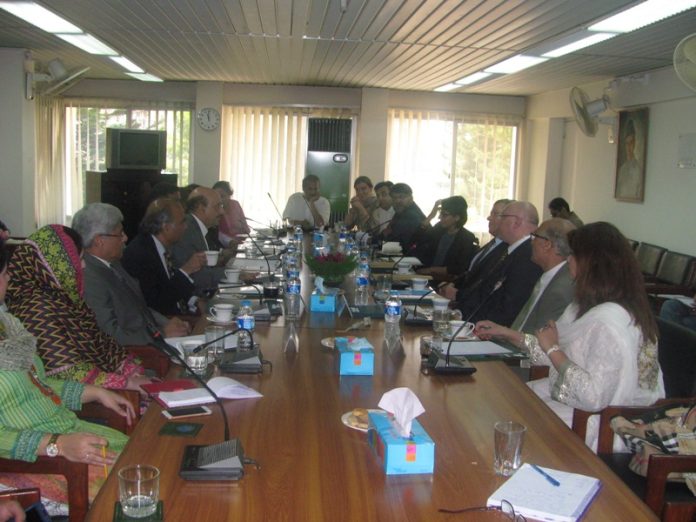 The Institute of Strategic Studies Islamabad (ISSI) held an in-house meeting with Republic of Belarus's Deputy Foreign Minister, His Excellency Valentine Rybakov, today. He was accompanied by Mr. Anderi Ermolovich, Ambassador of Republic of Belarus and Mr. Krill Deryalin, First Secretary of Embassy of Republic of Belarus at Islamabad.
Chairman, Board of Governors of ISSI, Ambassador Khalid Mahmood welcomed honourable guests. He said that there has been a rapid progress in Pakistan-Belarus relations in the past few months. However, economic ties need to be elevated between the two countries.
His Excellency Valentine Rybakov acknowledged an explosive growth in promoting Pakistan-Belarus relations in recent months. He highlighted on Belarus's foreign policy in the region and its relations with Pakistan. He said Prime Minister Nawaz Sharif visited Belarus in August and President Alexander Lakashenko had visited Pakistan in May this year. He said Prime Minister Mr. Andrei Vladimirovich Kobyakov will visit Pakistan in November for a three-day official visit. He said that Pakistan has recently opened up its embassy in Minsk. The Republic of Belarus opened its embassy at Islamabad last year. He also said that Belarus has stable relations with the European Union and Ukraine.
Director General of ISSI, Ambassaor Masood Khan, talked about the crisis in Ukraine and implications for the refugees into Belarus from the Middle East. Mr. Valentine Rybakov said that there are a large number of refugees in Belarus and the situation could further become adverse. He pointed out that refugees' migration into Europe is the result of Western powers' policies in the Middle East such as in Iraq, Syria, and Libya. He said that there is a huge scope to promote Belarus's economic relations with Pakistan in many areas such as industry, agriculture, defence, and education.
Ambassador Masood Khan thanked His Excellency Valentine Rybakov for a comprehensive and pleasant conversation about Pakistan-Belarus bilateral relations. He said that the two countries will maintain and accelerate the pace of bilateral relations, which sharply focus on fostering industrial, agricultural and commercial cooperation. In the near future, collaboration would also take place in education, information technology, service technology, and defence industry. The ISSI and a counterpart of a Belarusian think tank, he said, are planning to sign an MoU.
Dr A.R Malik/09102015