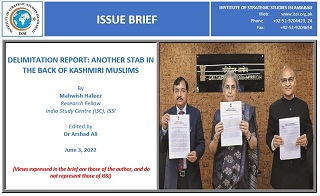 The nefarious designs of Modi government to change the demography of State of illegally Indian occupied Jammu and Kashmir to turn Muslim majority into a minority went a step further with the recently released report of delimitation commission.
It was an old desire of BJP and other right wing Hindu groups to erase the Muslim character of IIOJK. They also wished to contain the ongoing freedom struggle waged by Kashmiris against Indian occupation forces. Hence, it was the fateful day of August 5, 2019[1] when, through a Presidential order, the State of Indian occupied Jammu and Kashmir was not only deprived of its status of a state and bifurcated into two Union territories, but also by removing Article 35 A and subsequently introducing the new domicile law[2], Indian government opened the gates of IIOJK for non – Kashmiris, to settle there permanently – something which was not possible previously.
As if this was not enough, the Jammu and Kashmir Delimitation Commission was formed on March 6, 2020 with the sole aim of further disempowering Kashmiri Muslims politically. The three member commission was headed by Justice (R) Ranjana Prakash Desai, former Chief Election Commissioner of India Sushil Chandra and Jammu and Kashmir Election Commissioner K.K Gupta.[3]  Apart from that, there were also five associate members including National Conference (a pro India political party) MPs Farooq Abdullah, Hasnain  Masoodi and Mohammad Akbar Lone as well as Union Minister of State in the Prime Minister's Office  Dr. Jitendra Singh and Jugal Kishore Sharma from BJP.[4]