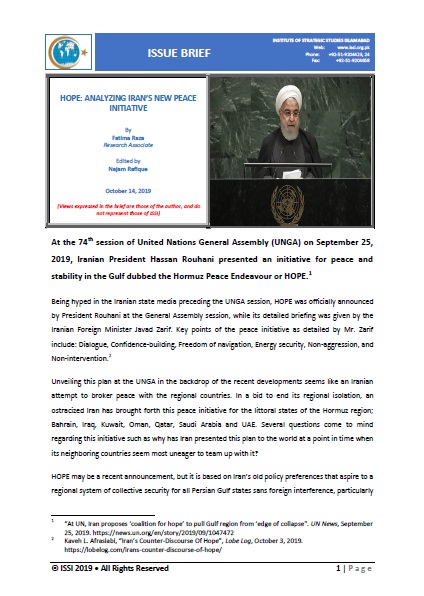 At the 74th session of United Nations General Assembly (UNGA) on September 25, 2019, Iranian President Hassan Rouhani presented an initiative for peace and stability in the Gulf dubbed the Hormuz Peace Endeavour or HOPE.[1]
Being hyped in the Iranian state media preceding the UNGA session, HOPE was officially announced by President Rouhani at the General Assembly session, while its detailed briefing was given by the Iranian Foreign Minister Javad Zarif. Key points of the peace initiative as detailed by Mr. Zarif include: Dialogue, Confidence-building, Freedom of navigation, Energy security, Non-aggression, and Non-intervention.[2]
Unveiling this plan at the UNGA in the backdrop of the recent developments seems like an Iranian attempt to broker peace with the regional countries. In a bid to end its regional isolation, an ostracized Iran has brought forth this peace initiative for the littoral states of the Hormuz region; Bahrain, Iraq, Kuwait, Oman, Qatar, Saudi Arabia and UAE. Several questions come to mind regarding this initiative such as why has Iran presented this plan to the world at a point in time when its neighboring countries seem most uneager to team up with it?