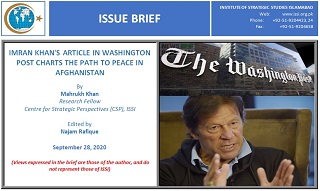 Pakistan's Prime Minister Imran Khan has always argued that a military solution is not the path to peace in Afghanistan and that a peace agreement with the Afghan Taliban is the only way forward.
This argument was followed through in the form of the Doha Peace Accord and the beginning of the intra-Afghan dialogue this month. However, in his recent op-ed published in the Washington Post titled, "Imran Khan: Peace is within reach in Afghanistan, a hasty international withdrawal would be unwise"[1], the Prime Minister has warned against the "temptation for settling unrealistic timelines".[2]
In a recollection of the journey towards the Afghan peace process that began in 2018, the Prime Minister has eloquently blended the struggles, challenges, experiences, determination and willingness of the parties involved in bringing peace in Afghanistan, which is Afghan-led and Afghan-owned. He highlights the fact that although the process is headed towards a meaningful trajectory it will come across many challenges that will require patience and understanding from all the concerned parties. Stressing on an unrelenting support from the people of Pakistan for the Afghan people to achieve peace in the country, Prime Minister Khan exhorts the importance of economic development and interconnectedness in the region, particularly through Pakistan that is home to 'key economic projects' under the China-Pakistan Economic Corridor  and for which a stable Afghanistan is of key importance. Drawing attention to the future of regional peace and stability, the Prime Minister underlines that this will come through collective efforts, aspirations and collaborations rather than divided goals.