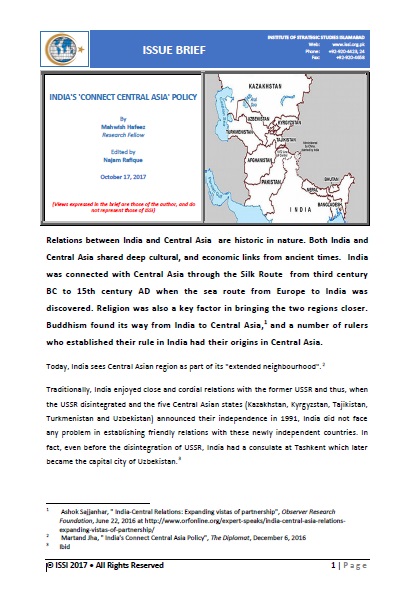 Relations between India and Central Asia  are historic in nature. Both India and Central Asia shared deep cultural, and economic links from ancient times.  India was connected with Central Asia through the Silk Route  from third century BC to 15th century AD when the sea route from Europe to India was discovered. Religion was also a key factor in bringing the two regions closer.  Buddhism found its way from India to Central Asia,[1] and a number of rulers who established their rule in India had their origins in Central Asia.
Today, India sees Central Asian region as part of its "extended neighbourhood".[2]
Traditionally, India enjoyed close and cordial relations with the former USSR and thus, when the USSR disintegrated and the five Central Asian states (Kazakhstan, Kyrgyzstan, Tajikistan, Turkmenistan and Uzbekistan) announced their independence in 1991, India did not face any problem in establishing friendly relations with these newly independent countries. In fact, even before the disintegration of USSR, India had a consulate at Tashkent which later became the capital city of Uzbekistan.[3]