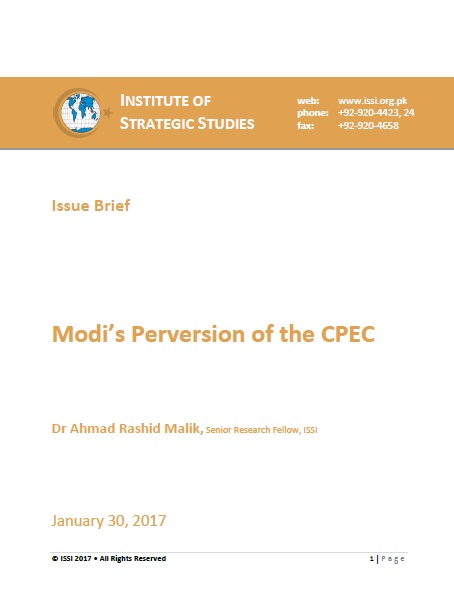 Introduction
Indian Prime Minister Narendra Modi is steadfast in his perversion of the China-Pakistan Economic Corridor (CPEC) and he has not moved back. Falsification and misrepresentation are the hallmark of his notion of the CPEC. In his remarks, he is trying to misguide others on the CPEC by distorting the project in his speeches and statements.
His recent remarks came during the flagship Raisina conference held in New Delhi on  January 17, 2017 where he stated that: "Only by respecting the sovereignty of countries involved, can regional connectivity corridors fulfill their promise and avoid differences and discord."
Modi constantly propagates his anti-CPEC propaganda, perturbing both China and Pakistan and a dozen of other countries that have become part of the CPEC or considering to join it. Over 66 countries might become the part of the One Belt One Road (OBOR). Modi further lamented on the OBORand CPEC in the following language: "India has termed the OBOR as a 'unilateral' or a 'national' initiative of China, with a limited role of other participating countries in shaping the priorities of the connectivity projects." New Delhi has also objected to the route of the CPEC – a sub-set of OBOR – going through Gilgit-Baltistan, contested by India.