Press Release
Ambassador Khalid Mehmood, Chairman BoG, addressed the Ninth Meeting of the CICA Think Tank Forum
December 29, 2021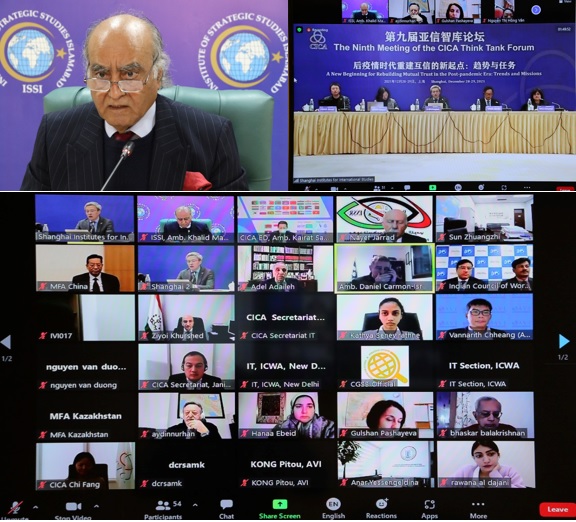 Ambassador Khalid Mahmood, Chairman BoG, Institute of Strategic Studies Islamabad (ISSI), participated in the 9th meeting of the Conference on Interaction and Confidence Building Measure in Asia (CICA) Think Tank Forum organised by Shanghai Institutes for International Studies (SIIS) on December 28-29, 2021. This year Forum focused on 'A New Beginning for Rebuilding Mutual Trust in the Post-pandemic Era: Trends and Missions'.
Ambassador Khalid Mahmood addressed the first session of the Forum on the theme of 'Security Challenges to CICA Member States in the Post-pandemic Era'. He said that 'COVID-19 has exacerbated the traditional security threats while the non-traditional security threats remain unabated.' Pandemic emerged at a time, 'when the post-World War-II order, particularly since the disintegration of USSR, was already undergoing a change. COVID accelerated that process.'
Now change has become ubiquitous, with "uni-polar to multi polar world, multilateralism on the retreat, nationalism and populism in ascendance and major-power competition intensifying with the rise of China and the US pivot to Asia", said Ambassador Mehmood. He underlined that 'establishment of QUAD and AUKUS, reminiscent of cold-war mentality, are aimed at containment of China and Russia.'
Ambassador Mehmood was of the view that 'in the post-pandemic period, economic shift from neo-liberal order and global market economy to national market-oriented order' would be prevalent. He underscored that "vaccines are a global public good and pandemic aid should be unbiased" as principle of "no one is safe unless everyone is safe" should guide policy.
Commending SIIS and CICA Secretariat for organising a timely and important meeting, he highlighted that CICA is the most representative and inclusive Pan Asian institution in the regional security field. He proposed that CICA may "establish an effective crisis management and emergency response mechanism" to deal with epidemiological challenges in future.
He reiterated that Pakistan's primary interest is in 'seeking a peaceful and stable international order, that takes everyone on board. Pakistan will always support an inclusive global order, for advancing the shared objectives of peace, progress and prosperity in the region and beyond.'
Earlier H.E. Kairat Sarybay, Executive Director, the Secretariat of CICA and Ambassador Vladimir Norov, Secretary General, Shanghai Cooperation Organization (SCO) delivered keynote speeches. The 9th Meeting of CICA Think-Tank Forum was attended by heads of leading national think-tanks from all CICA member states.