Press Release
Ambassador's Platform
Pakistan-Kazakhstan Relations: Cooperation in Regional Peace and Stability
H.E. Yerzhan Kistafin
October 22, 2021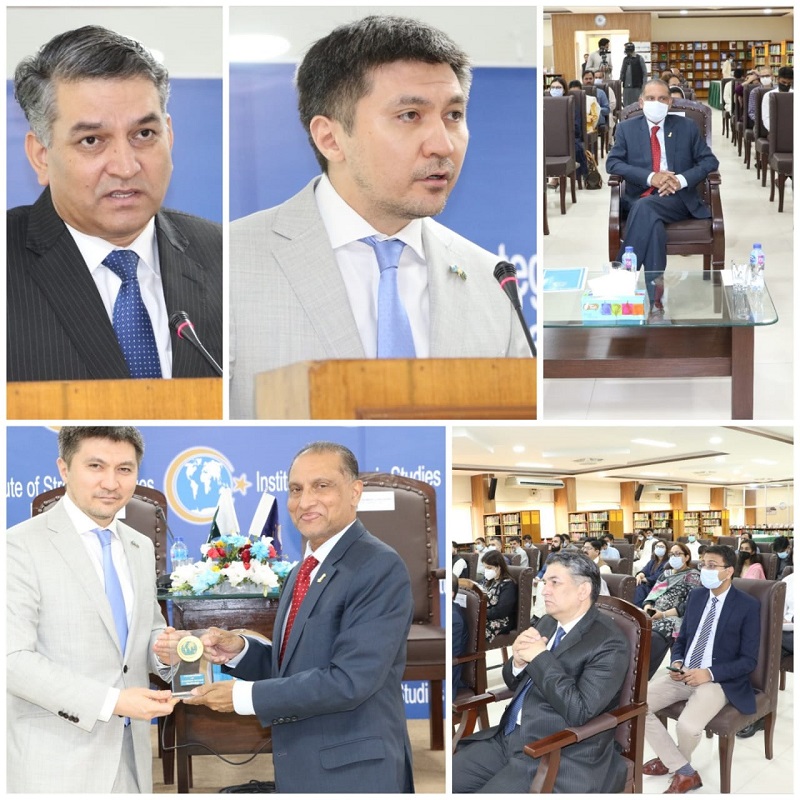 The China-Pakistan Study (CPSC) at the Institute of Strategic Studies Islamabad (ISSI) organised a Public Talk titled, "Pakistan-Kazakhstan Relations: Cooperation in Regional Peace and Stability," on October 22, 2021. H.E. Yerzhan Kistafin, Ambassador of the Republic of Kazakhstan was the Guest Speaker for the event.
In his introductory remarks, Dr. Talat Shabbir, Director, CPSC, said that Pakistan views Kazakhstan as a friendly country which enjoys a special status in international community. He underscored importance of connectivity and transit for further deepening Pakistan-Kazakhstan cooperation. He highlighted that Kazakhstan is the largest land-locked country in the world, while Pakistani ports are the shortest and most viable route for Central Asia to access the Arabian Sea and the wider world.
While in his welcome Ambassador Aizaz Ahmad Chaudhry, Director General, ISSI said that Kazakhstan being the largest country in Central is extremely important country. It offers immense potential for enhancing trade and economic cooperation. He emphasized that today's talk presents an opportunity to the Ambassador Kistafin to share information about his country and take forward people-to-people contacts between two countries.
The Guest Speaker Ambassador Kistafin in his talk said that Kazakhstan has a very constructive and a friendly relationship with Pakistan. It is marked by regular meetings at the highest level between leaderships of two countries. The political dialogue is at the core of relationship. For this, both countries need to invest in building mutual trust. Meanwhile, the military ties between two countries are very close. He expressed Kazakhstan's interest in learning from Pakistan's experience of taking part in peacekeeping operations under the United Nations auspices.
Ambassador Kistafin underscored the need for expanding bilateral trade and economic cooperation between two countries. He said, at present, bilateral trade is only USD 100 million, which needs to be increase manifold and potential exists for expanding it. He shared that in their recent meeting on the sidelines of Shanghai Cooperation Organisation in September, 2021, both leaders emphasized on expanding bilateral trade.
He also highlighted lack of information about each country in the other is a challenge in expanding bilateral cooperation. Both countries and their leaders and diplomats need to focus on raising awareness among people with focus on enhancing cultural and people-to-people contacts. He shared that direct flights between two countries will be resumed soon. He said, collaboration between two countries is not just about partnership but about reviving brotherhood.
In terms of people-to-people contact, Ambassador Kistafin, underlined three pillars: a) collaboration between universities; b) cooperation between think-tanks; and c) engagement between media of two countries. Through these mediums both countries can deepen people-to-people ties and enhance bilateral relations.
Later, an interactive session was held which was moderated by Ambassador Chaudhry. At the conclusion, Ambassador Chaudhry, presented ISSI's memento to Ambassador Kistafin.