China-Pakistan Study Centre
Press Release
Public Talk
'China-Pakistan COVID-19 Cooperation'
April 1, 2021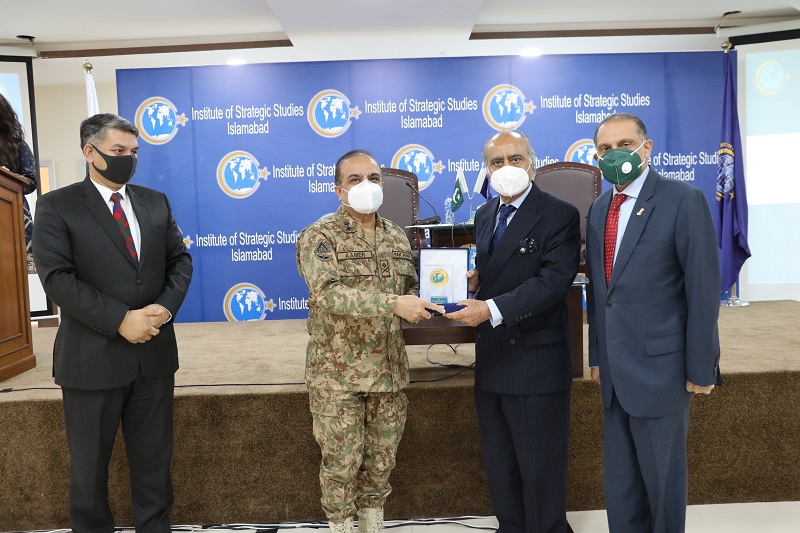 China-Pakistan Study Centre (CPSC) at the Institute of Strategic Studies Islamabad (ISSI) hosted a Public Talk titled 'China-Pakistan COVID-19 Cooperation' today. Major General Aamer Ikram, Executive Director National Institute of Health was the Chief Guest at the occasion.
Dr. Talat Shabbir in his opening remarks stated that China has taken decisive and responsible actions to stop the spread of coronavirus and many countries have benefitted from Chinese experience. He added that China's support to Pakistan in the fight against coronavirus has strengthtened the bond between the two countries.
Major General Aamer Ikram highlighted the joint efforts undertaken by Chinese and Pakistani medical experts since the outbreak of Coronavirus. He said that China has provided support in multiple ways and have been very dedicated towards assisting Pakistan in these challenging times. He emphasized that the fight against coronavirus requires commitment and collaboration beyond borders. Major General Aamer commended the role of Ministry of Foreign Affairs and other government bodies for promptly addressing this emergency situation.
Praising China's role in the fight against coronavirus, he mentioned that the Chinese have done wonders by not only controlling the spread of the virus but also developing the most effective vaccines. He added that Pakistan has benefitted tremendously from Chinese experience and NIH has initiated a number of projects with Chinese counterparts. He stated that measures have been taken to strengthen Pakistan's capacity of building vaccines which is very limited at the moment and will save the country millions of dollars on imports. He said that we must appreciate the role of Pakistani and Chinese government to ensure vaccines for the people of Pakistan.
The talk was followed by an interactive session which was moderated by Ambassador Aizaz Ahmad Chaudhry, Director General ISSI. Following the interactive session, Ambassador Khalid Mahmood, Chairman BoG ISSI, presented ISSI's memento to the Chief Guest.