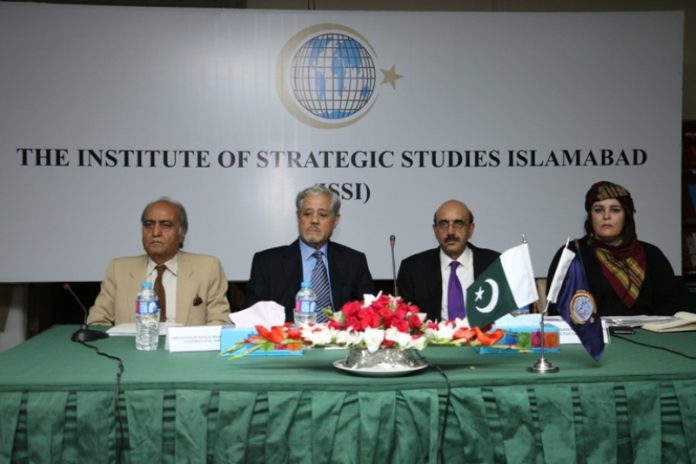 Press Release
 Public Talk
on
"The OIC and the Dispute of Jammu and Kashmir"
May 11, 2016
The Institute of Strategic Studies, Islamabad (ISSI) organised a Public Talk on "The OIC and The Dispute of Jammu and Kashmir" on May 11, 2016. The distinguished speaker at the event was Special Representative of the Organisation of Islamic Cooperation (OIC) Secretary General on Jammu and Kashmir, H.E. Mr. Abdullah Al-Alim.
Ambassador Al-Alim thanked the ISSI for hosting him and expressed deep gratitude for the government of Pakistan and ISSI for their hospitality and cooperation with OIC regarding the conflict in Kashmir. He said that the OIC reaffirmed its principled position on every humanitarian issue, and attaches higher degree of importance to the issue of Kashmir. In the OIC Summit held in April 2016, the OIC reiterated its principled position of continued support to the Kashmiri people's right to self-determination in accordance with UN Security Council resolutions. He underscored that the Contact Group had been constantly conveying the OIC's concerns to the international community regarding the flagrant human rights violations and the abuse of the basic rights of the Kashmiris. He informed the audience about the work of Standing Mechanism of OIC Independent Permanent Human Rights Commission (IPHRC) to monitor human rights situation in Indian Occupied Kashmir (IOK) which presents its report to every session of the OIC Council of Foreign Ministers. He said that the OIC is keeping close contact with relevant international organisations to sensitise the international community on the Kashmir issue and the human rights violation in the Indian Occupied Kashmir (IOK). He urged dialogue to resolve the dispute and for long-lasting peace in the region.  He said that India does not respond, neither has it shown cooperative attitude which is the greatest impediment in resolving the issue peacefully.
Earlier in his welcome remarks, Director General ISSI, Ambassador Masood Khan said that Pakistan consistently supported the Kashmiri's cause and that it stood by Kashmiri resistance against the Indian occupation. He said that Saudi Arabia has a strong bond with Pakistan and has never deserted it. In 1990s, the OIC resolution on the issue was a new beginning and an earth-shattering development as people had forgotten the issue of Jammu and Kashmir at that time. It was a model for the Muslim world regarding the issue of Jammu and Kashmir. He said that Saudi Arabia and Turkey are prominent members of the Contact Group on the issue of Jammu and Kashmir, and who have shown unflinchingly support to Pakistan's stance on the issue. The youth in Jammu and Kashmir, in fact, people of all ages have geared up with a new determination to resolve the issue.  He said that they are determined not to give up their resistance, and under no circumstances will they accept that Kashmiris be described as terrorist, or their legal resistance as terrorism. No matter what happens, Kashmiris of all ages, supported by Pakistanis, and supported by OIC, will keep pursuing their struggle.
Farwa/11052016