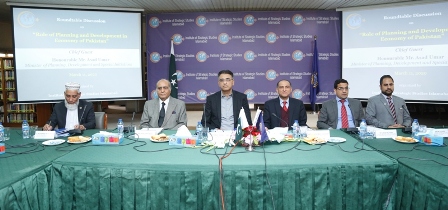 PRESS RELEASE
Roundtable Discussion
on
The Role of Planning and Development in the Economy of Pakistan
March 11, 2020
"Planning Commission (PC) has a very important role to play in the economic development of Pakistan." This was stated by Honorable Mr. Asad Umar, Minister of Planning, Development and Special Initiatives during his address as Chief Guest at a Roundtable Discussion on "The Role of Planning and Development in the Economy of Pakistan". The event was organized by the Institute of Strategic Studies Islamabad (ISSI).
Mr. Umar further stressed that in the 60's, Planning Commission played a pivotal role in the development of the country. Now, evolution of technology has led to evolution in the workings of centralized economic systems. In the economy as a whole, devolution of economic systems needs to take place. Deregulation does not mean that the state does not have a role to play in the economy. He further added that Planning Commission was working on 3-year national growth strategy. The strategy is looking to find sophisticated ways of intervention which required incentive structures for the private sector from the state, so that it can act as an engine of growth. He said that Planning Commission needs to create a platform for centralized thinking through inclusive knowledge sharing by all stakeholders involved in the country's economy.
Dr. Muhammad Munir Ahmad, DG P&DD, Pakistan Agricultural Research Council (PARC), Dr. Liaqat Ali Shah, Executive Director, Centre of Excellence for China-Pakistan Economic Corridor (CoE-CPEC) and Dr. Usman W Chohan, Director, Economics and National Affairs, Centre for Aerospace and Security Studies (CASS) also spoke at the occasion. The speakers emphasized the role of planning in the fields of agriculture, CPEC and connectivity and industrial development.
Earlier, in his welcome remarks, Ambassador Aizaz Ahmed Chaudhry, Director General ISSI, said that role of planning is critical for robust economic growth. Over the past 30 years, Pakistan has moved away from government planned economy to a more liberalized economy, which was in lieu with larger globalization of world economy. He added that a case can be made for long-term plans for developing countries like Pakistan, as the market-led economic growth model had not led to substantial gains.
In his concluding remarks, Ambassador Khalid Mahmood, Chairman ISSI, stated that there is a need for the Government of Pakistan to implement those policies which lead to sustainable and equitable growth, and in this regard the role of planning in the economy of Pakistan cannot be discarded. The roundtable was well-attended by members of academia, members of think tank community, media persons and students.