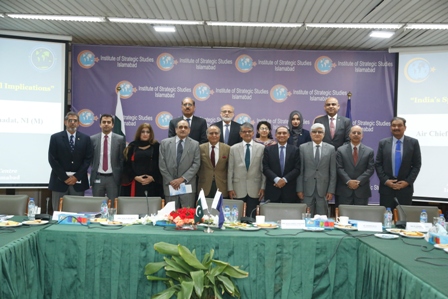 Roundtable
on
India's Space Programme: Global Implications
February 25, 2020
"The capability differential between the space programmes of India and Pakistan will increase the regional instability." This was stated by Air Chief Marshal (Retd) Kaleem Saadat, NI(M) during his keynote address as a chief guest at a roundtable organised by the Arms Control & Disarmament Centre (ACDC) at the Institute of Strategic Studies Islamabad (ISSI) today. Ambassador Aizaz Ahmad Chaudhry, Director General ISSI, welcomed the experts from official departments,think-tanks and academia at the roundtable. The agenda was to discuss India's modernisation of dual-use space programme and its effects on global strategic landscape.
Air Chief Marshal (Retd) Kaleem Saadat, NI(M) stated that government of Pakistan should actively focus on maximum utilisation of existing space capabilities to decrease the gap with India. Pakistan has to set its priorities in outerspace and allocate resources accordingly. He stressed on the commercialisation of space programme to overcome the financial constraints.
Dr. Naeem Salik, Senior Fellow at Centre for International and Strategic Studies (CISS) provided a comparative analysis of space programmes of Pakistan and India. He identified three areas of Indian space militarisation: dual-use space platforms, ballistic missile system and linkage with the nuclear programme. He also talked about the Indian anti-satellite capability which will lead to new global and regional arms race in outerspace. He also cited the cyber and laser weapons as new threats to space-based assets.
Husham Ahmed Cheema, Director Arms Control and Disarmament Division at the Ministry of Foreign Affairs enlightened the audience about the role of international norms in this issue area. Despite its support for international norms, India is continuously developing its ballistic missile programme. India has not signed the Moon Treaty of 1979 but it has entered into a Space Situational Agreement with the US which will give it a false sense of confidence that it can track Pakistan`s strategic assets from outerspace.
Earlier, in his opening remarks, Malik Qasim Mustafa, Director ACDC-ISSI, said that states are contesting for the "newest war fighting domain," and that is "outer space." Major powers are investing huge resources to modernise and develop their space programmes with dual-use capabilities. India has already embarked upon a dual-use space race and a global space competition, which will have global and regional implications.
Ghazala Yasmin Jalil, Research Fellow, ACDC-ISSI, gave a briefing on India's space programme and highlighted its global and regional implications.
The main issue highlighted during the discussion was the integration of space technologies with other emerging technologies like artificial intelligence, information and communication technologies, cyberspace, lasers and how it will affect the survivability of deterrence on ground. Participants also discussed the social, economic, political, diplomatic and military consequences of the Indian space programme. They agreed that there are always asymmetric ways to counter the technological development like increasing public private partnership, development of economic model for self-sustainable space programme, increasing incentive for future generation in this area, easy availability of data for research and exploration of new applications of space technologies for sustainable development. Pakistan must identify it's redline in outerspace and communicate them to its adversaries. While concluding the discussion, Chairman BOG, ISSI Ambassador Khalid Mahmood talked about the development of dual-use space technologies by India and their destabilising effect on the deterrence equation in South Asia. On the issue of future course of action, he said that Pakistan could invest in the indigenisation of dual-use space technologies and public-private partnership to enhance its deterrence against India. At regional level, Pakistan and India should start bilateral negotiations for the CBMs in outer space. At international level, Pakistan should play an active role in the development of relevant international norms, he said.