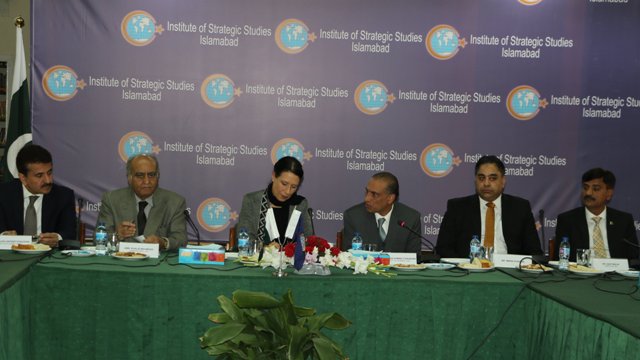 PRESS RELEASE
Round-table on"Changing Dynamics in Kashmir – A Challenge to the World Conscience"
A 14 member All-Party Parliamentary Kashmir Group (APPKG) delegation headed by Ms. Debbie Abraham visited Institute of Strategic Studies (ISSI) for a round-table discussion on "Changing Dynamics in Kashmir – A Challenge to the World Conscience" on February 19, 2020. Other members of the delegation included Lord Qurban Hussain, Ms. Judith Cummins, Sara Britcliffe, Raja Najabat Hussain, Br. Imran Hussan, Mr. James Daly, Mr. Mark Eastwood, Mr. Tahir Ali, and Ms. Yasmine Dar . The delegation was welcomed by the Director General ISSI, Amb. Aizaz Ahmad Chaudhary and Director India Study Centre Dr. Saif Malik.
The delegation was appraised about Pakistan's continuing deep concern on the atrocities being inflicted upon the people of Indian occupied Kashmir by the Indian security forces. The Pakistani participants from academia also noted that while the international community is expressing its concern on the gross human rights violations being committed in the Indian occupied Kashmir, the attention of international community must also stay focused on the real issue that is the right of the Kashmiris to self-determination, a promise made to them seventy years ago. Some participants also pointed out to the growing safronization in India and the ambition of the Modi government to create a Hindu Rashtra to the detriment of all non-Hindu minorities. It was further observed that if Modi administration continues to tread on this dangerous exclusionary ideology, there could be serious implications for the peace and stability of the Indian sub-continent. The visiting delegation was informed that the people of Pakistan stand in complete solidarity with the people of Kashmir in their resistance to the illegal Indian rule.
Ms. Debbie Abraham noted the points made by the participants and stated that the purpose of their visit to Pakistan was to assess the situation in Jammu and Kashmir in the light of recent developments. She expressed her thanks to the Institute of Strategic Studies for providing the opportunity to interact with the Pakistani academia and other participants.
The round-table was attended by academics from Universities like National Defence University, Quaid-e-Azam University, National University of Modern Languages, Comsats, International Islamic University and Fatima Jinnah Women University, Rawalpindi. Participants from some think tanks in Islamabad were also present at the occasion.