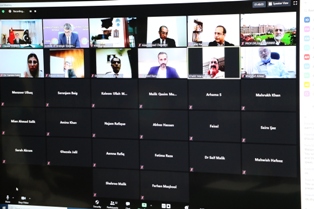 Press Release
Webinar on COVID-19: Learning from China's Experience
June 11, 2020
"China has been transparent about its struggle against the COVID-19 pandemic. World can learn from China's experience of fighting the pandemic. It is only when those lessons are implemented that we will be successful in defeating coronavirus", Mr. Zahoor Ahmed, Additional Secretary (Asia-Pacific), Ministry of Foreign Affairs, addressing a webinar on 'COVID-19: Learning from China's Experience' organized by China-Pakistan Study Centre at the Institute of Strategic Studies Islamabad on June 11, 2020.
The webinar brought together China Study Centres across Pakistan. panelists included Directors of leading China Study Centers situated in Gilgit, Islamabad, Peshawar, Jamshoro, Lahore, Quetta and Muzaffarabad. H.E. Yao Jing, Ambassador of China in Pakistan made keynote remarks, while Mr. Zahoor Ahmed, Additional Secretary (Asia-Pacific) at the Ministry of Foreign Affairs was the Chief Guest.
Dr. Talat Shabbir in his introductory remarks thanked panelists for graciously attending the webinar, which highlighted the importance China Study Centers give to learning from China's experience in fight against the pandemic. He underscored research institutions have played a crucial role in creating awareness about the on-going pandemic situation. In this, world can certainly learn from China's experience. Pakistan in particular, can see what lessons can it learn from China's experience and we need to see what strategies China adopted to minimize spread of COVID-19, despite being the first epicenter of the virus.
Ambassador Aizaz Ahmad Chaudhry, Director-General ISSI, in his welcome remarks, underscored that it is special webinar with diverse panelists, and participation from all four provinces and regions of Pakistan. He underlined that China Study Centres are working hard to consolidate Pakistan's relations with China. He underscored that, in the evolving geopolitical situation Pakistan-China relations has come forth as center-piece of unity and strong diplomatic ties. As the coronavirus pandemic spread, countries realized that it is extremely serious and cooperation was required to contain it. Earlier, China's was mocked for its effort to deal with the virus. Now China has recovered from the pandemic, while Pakistan is entering the thick of it and as we hit peak next month, we need to take into view how China tackled the menace.
Ambassador Yao Jing, in his keynote address, elaborated on Pakistan-China cooperation in fighting the pandemic from January till now. He underscored that Chinese government has issued a White Paper on fight against COVID-19 pandemic and China's efforts for international cooperation. He highlighted mutual support extended by Pakistan and China to each other as they battle with pandemic. He noted that Pakistan and China extended material support to each other and Chinese medical teams have visited Pakistan and shared experience in pandemic control. At present, both governments are focused on supporting Pakistan's economy and adjusting economic cooperation under CPEC framework. In this he highlighted China's support to Pakistan in freezing debt repayments under G20 framework Pakistan. Moreover, despite the pandemic situation, China and Pakistan are collaborating in locust control and supporting Pakistan's agriculture sector.
Meanwhile, panelists highlighted various aspects of China's exemplary response in battling the pandemic. Dr. Fazal-ur-Rehman, Director Pakistan Institute of China Studies, University of Sargodha, highlighted role of strong and dedicated leadership in leading the swift response to the pandemic. Similarly, Mr. Shakeel Ahmad Ramay, Director Asia Study Center, Sustainable Development Policy Institute, while referring to Sun Zu, Confucius and Tao, underlined that China overcame the challenge with a dedicated strategy of attacking the virus, wisdom of planning for it and belief that it will succeed.
Dr. Samina Sabir, from University of Azad Jammu & Kashmir stressed that from China's experience we can learn that Screening, testing and monitoring with epidemiological investigation are key factors to cut virus transmission. Dr. Saranjam Baig, Director Centre for Research on CPEC, Karakorum International University, underscored that enhancing the capacity of health worker and organization to effectively tackle the COVID-19 crisis is crucial.
Dr. Kaleem Ullah Mandokhail, Focal Person China Study Center, University of Balochsitan, highlighted that Govenrment of Balochsitan has learnt lessons from Chinese experience while formulating protocols for healthcare workers in the province. Similarly, Dr. Mukesh Kumar Khatwani, Director Area Study Centre for Far-East, University of Jamshoro emphasized on raising awareness among masses.
Dr. Khalid Manzoor, Director China Study Center, Government College University Lahore, highlighted role of responsive government and exemplary coordination between party organisations and people at the grassroot level in fighting the pandemic. Dr. Zahid Anwar, of China Study Center, University of Peshawar, underscored world needs unity, and should follow science and facts to deal with COVID-19 as China did. Dr. Liaquat Ali Shah, Executive Director, CPEC Center of Excellence, underlined that self-discipline of Chinese people and government at all levels has been the driving force in beating the pandemic.
Meanwhile, in his address Additional Secretary Zahoor Ahmad, underscored the element of efficiency in China's response. He commended China for being transparent by publishing the recently released White Paper. He specifically highlighted extensive support of China to Pakistan during the recent COVID-19 crisis, which he noted underscored strength of the relationship.
Ambassador Khalid Mahmood, Chairman ISSI, in his concluding remarks, underlined that the way China reacted with great speed and valour in the wake of COVID-19 pandemic is exemplary. The lesson from China is: countries don't need to wait for the virus to hit them; rather they have to take action first. China, he highlighted, did a great service to humanity by delaying inevitable spread of the virus and allowed other countries to make arrangements before it reached them. He noted that pandemic has shown that countries cannot tackle such threats on their own. It requires extensive international cooperation, and China has been fully cooperative with World Health Organization from the very beginning.
Dr. Talat Shabbir, Director CPSC, delivered the vote of thanks.