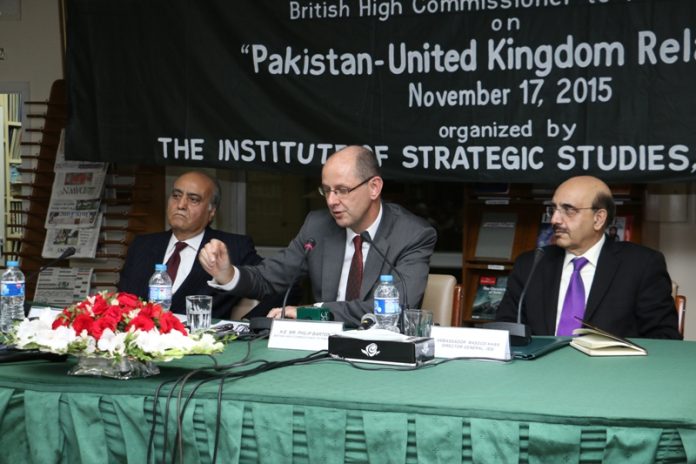 British High Commissioner Commits that UK will remain "Shoulder-To-Shoulder" with Pakistan
In a speech at the Institute of Strategic Studies (ISSI) today, the British High Commissioner described the relationship between the UK and Pakistan as getting stronger.
At the invitation of the Director General of ISSI, Ambassador Masood Khan, the British High Commissioner to Pakistan, Mr. Philip Barton CMG OBE addressed a senior audience on Pakistan-United Kingdom Relations, as part of ISSI's Ambassador's Platform 2015. The British High Commissioner highlighted people-to-people ties, development assistance, economic and trade relations and, particularly in the wake of the recent terrorist attacks, security co-operation.
The British High Commissioner, Philip Barton CMG OBE said:
"The UK and Pakistan's relationship stands on very strong foundations. Over 1.1 million UK nationals claim their heritage from Pakistan; a quarter of a million British nationals visit Pakistan every year; some 7,000 Pakistani students have studied in the UK in each of the last few years.
"Bilateral relations are in excellent shape across the board and the top of the two governments know each other well. The economic prosperity side of bilateral relations has been my personal priority and bilateral trade in 2014 increased by 15% compared to the previous year."
In response to the terrorist attacks in Paris, the British High Commissioner said:
"Terrorists killed and injured hundreds of innocent people in the French capital. As our Prime Minister has made clear, the UK stands with France and with the victims of terrorism everywhere.
"I am very conscious that the people of Pakistan have suffered more than most from terrorism and violence. The horrific, unjustifiable attack on the Army Public School in Peshawar a year ago shocked the world. The UK continues to stand shoulder to shoulder with Pakistan as it tackles terrorism and extremism.
"We are providing training to build the capacity of the Pakistani police and judiciary. We have trained over 5000 military and civilian personnel to counter improvised explosive devices. We are also supporting the Pakistani authorities' efforts to implement the National Action Plan agreed in the aftermath of the Peshawar attack."
Mahwish H/17112015