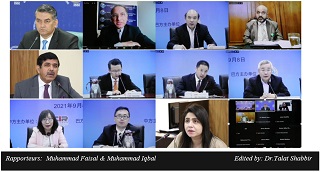 The China-Pakistan Study Centre (CPSC) at the Institute of Strategic Studies Islamabad (ISSI) in collaboration with China Institutes of Contemporary International Relations (CICIR) hosted first webinar under Pakistan-China Think Tank Forum on September 8, 2021. The focus of the webinar was on analysing evolving regional situation and exploring Pakistan-China cooperation. Ambassador Aizaz Ahmad Chaudhry, DG-ISSI and Dr. Yuan Peng, President CICIR chaired the proceedings. The speakers included Ambassador Khalid Mahmood, Mr. Liu Jinsong, Maj Gen (R) Dr. Samreez Salik, Dr. Rong Ying, Prof. Li Li, Ms. Amina Khan, Dr. Wang Shida, Dr. Sumeera Imran, Dr. Mukesh Khatwani, Dr. Wang Xu and Dr. Yuan Peng.
The webinar was divided into two sessions. First, was the inaugural session with speeches of moderators, heads of ISSI and CICIR; and special addresses by representatives of the Ministry of Foreign Affairs of Pakistan and China, respectively. Dr. Talat Shabbir, Director CPSC and Dr. Hu Shisheng, Director at CICIR, jointly moderated the webinar.
Inaugural Session
Dr. Talat Shabbir, Director CPSC welcomed the speakers and participants to first Pakistan-China Think-Tank Forum. He said 2021 marks 70 anniversary of the establishment of diplomatic relations between Pakistan and China, and during past seven decades, bilateral relationship has withstood changes in international system. Dr. Shabbir underlined that as strategic partners, both Pakistan and China, continue to support each other's core interests. Friendship with China is the cornerstone of Pakistan's foreign policy and there is an across-the-board political and public consensus on maintaining strong bilateral ties with China. He underscored that Belt and Road Initiative (BRI) and its flagship project, China-Pakistan Economic Corridor (CPEC), have brought new opportunities of economic development to Pakistan and other developing countries.
Dr. Hu Shisheng,Director of the Institute of South & Southeast Asian and Oceanian Studies of CICIR while welcoming participants remarked that it is slated to be an annual feature on the calendar of both organisations. He underscored the virtual nature of dialogue and hoped that future iterations would be in-person conferences as "online sessions have restricted the more energetic sessions". He hoped that "future discussions will be in person in a more energetic way".