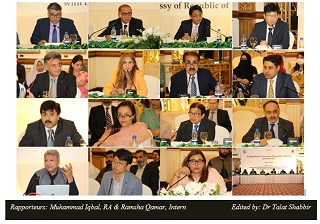 The Dialogue was moderated by Dr. Talat Shabbir, Director CPSC. In his opening remarks, he underscored Pakistan's close partnerships with East Asian nations via its "Vision East Asia". He said, it was a recognition of East Asia's strategic significance, coupled with the region's economic prowess that makes it an attractive site for regional and global powers. He highlighted Pakistan and South Korea relations, which were established in 1968 at the consular level, upgraded to the Ambassadorial level in 1983. Since then, relations have progressed exponentially. High-level exchanges and support to each other at international forums has been the hallmark of bilateral engagement. Pakistan-South Korea relations grew rapidly with special focus on trade and economic relations. The bilateral trade between the two countries reached at an all-time high at USD 1.8 billion in 2021.
In this context, Dr. Shabbir stated, the seminar was an effort to highlight Pakistan's need to reinvigorate its political and economic linkages with the East Asian region and ASEAN nations, particularly with the Republic of Korea. He added that the dialogue focuses on Pakistan's interest in East Asia and ASEAN through the prism of 'geo-economics' and 'economic security' in line with the policy direction of the National Security Policy (NSP).
In his opening remarks, Ambassador Aizaz Ahmed Chaudhary, DG ISSI, welcomed Ambassador Suh Sang Pyo, Ambassador of Republic of Korea, for exploring the economic partnership between Pakistan and South Korea, and broadly with East Asia. He elaborated that the Republic of Korea has focused on developing many of its industries and today exports its diverse products, such as Hyundai cars and Samsung electronics, to multiple nations across the globe, including Pakistan due to which it is ranked amongst the top twenty economies of the world. There is a lesson Pakistan can learn from Republic of Korea that how a nation can enhance its industrial production and shifts to an export based economy.