Press Release
ACDC-ISSI Seminar
on
"Ensuring Traditional Security through Technology Optimisation"
June 28, 2022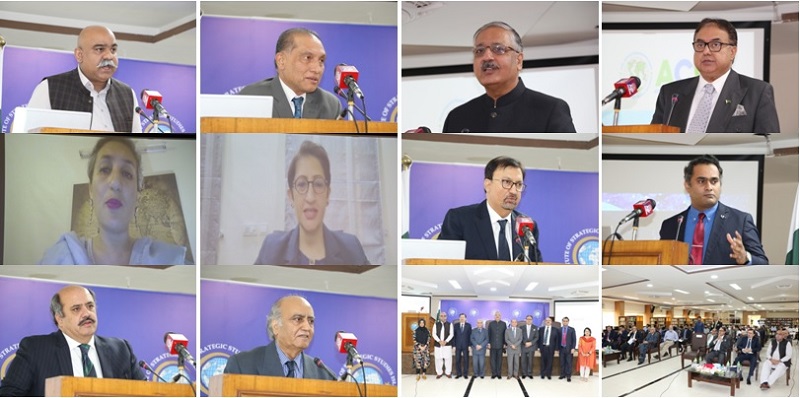 The Arms Control & Disarmament Centre (ACDC) at the Institute of Strategic Studies Islamabad (ISSI) organised a Seminar on "Ensuring Traditional Security through Technology Optimisation" on June 28, 2022. Keynote Address was delivered by General Zubair Mahmood Hayat, former Chairman Joint Chiefs of Staff Committee (CJCSC). Prominent speakers included Ambassador Raza Bashir Tarar, Special Secretary (Policy Planning and Public Diplomacy), at MOFA; Dr Salma Malik, Assistant Professor, Department of Defence & Strategic Studies, Quaid-i-Azam University (QAU), Islamabad; Dr Rabia Akhtar, Director Centre for Security, Strategy and Policy Research (CSSPR), Lahore; Air Commodore (Retd.) Khalid Banuri, former Director General ACDA, Strategic Plans Division; Mr Muhammad Adeel, Science Diplomacy, Arms Control &Disarmament (ACDIS) Division, Ministry of Foreign Affairs (MOFA), Pakistan and Dr Zafar Nawaz Jaspal, Professor, School of Politics and International Relations, Quaid-i-Azam University (QAU), Islamabad.
In his welcome remarks Ambassador Aizaz Ahmad Chaudhry, Director General ISSI, said that it is important not to forget traditional security. Pakistan's comprehensive security is comprised of a tripod – economic, human and traditional security. It is important to have robust armed forces that can ensure the defence of the country. Countries are moving towards emerging technologies to meet their security needs. The future does belong to technology.
In his keynote address, General Zubair Mahmood Hayat said that the context of the debate on technological optimisation has to be seen in the backdrop of great power competition. The "great reset," and new alliances for consolidation of their interests are the context of the new technological era. Technology has an underlying role to play in the concepts of defence, deterrence and defence. The current spectrum is hovering between no peace and no war. In this grey zone, hybrid 5th generation warfare is taking centre place. Technology is being used for this hybrid warfare. At the centre of it all is a circle of technology, which provides strategic leverage to optimise the means, ways and ends of war. Technology, which is dynamic and futuristic will change the character of war. In future, with the use of artificial intelligence, there could be a time when contests would be between AI-based technological beings. He highlighted that whosoever possesses data in the contemporary world, rules the world. Data is at the heart of technological optimisation. All three domains of warfare – air, land and sea will be affected by it. Increasingly space and cyber are two new domains vital for warfare and dominance across the world. He highlighted that boundaries of technological sharing, or rather its denial, will be defined by great power competition. He, thus, endorsed indigenization in technology, which opens strategic options and enhances strategic resilience. He said, "Tech is the new constant, it is the new game-changer." The constant variable is still humans.
Mr Raza Bashir Tarar, Special Secretary (Policy Planning and Public Diplomacy), at MOFA said that new and emerging technologies are fuelling competition. It has changed the nature of warfare. The emergence of non-state actors armed with the latest weapons have complicated things. He emphasised the need to focus on cybersecurity since Pakistan's cyberspace is attacked by state and non-state actors. India has time and again targeted critical investigation infrastructure. This is undermining the national security of Pakistan. He emphasised the need for a legal regulatory framework for the public and private sectors. As a way forward, he suggested the synergy of national efforts in the cyber domain. He endorsed self-reliance and indigenisation in technology and investing in educating youth. He also suggested closer cooperation with China, Russia and Turkey on emerging technologies.
Earlier in his introductory remarks, Malik Qasim Mustafa, Director ACDC, said that states are utilising emerging technologies for military superiority and battlefield dominance, which is already altering the "balance of power," intensifying new regional and global "Strategic Competitions" and fuelling up new regional and global arms races. This new technology-driven military competition is a major security challenge for already resource-constrained states as they are struggling to ensure security against their perceived traditional threats.
In her remarks on "Global Tech Trends: Need for Optimising Military Technologies" Dr Salma Malik said that artificial intelligence, cyber warfare, 5G and 6G, are now the Global trend with emerging technologies the nature and speed of warfare are changing. Thus, force structures need to be adapted. Technologies like AI will continue to have an impact on the battlefield. The pace of military modernisation will have an impact on warfare. She said that technology is a force multiplier. The challenge would be what states can achieve given their strategic ambience and resources.
Dr Rabia Akhtar in her remarks on "Technology Optimisation Model for Force Modernisation" said that Pakistan cannot afford to remain behind in its modernisation efforts given a foe like
India. Pakistan has to make use of technology and modernise its forces without draining its economy. She said that Pakistan must make an incremental investment with smart integration of technology as the answer, given limited resources. Pakistan must take cybersecurity seriously and invest in it. She argued that a range of non-nuclear options are needed in times of crisis and conflict. It is an important factor for stability and imperative for slowing down the escalation process.
Air Cdre (R) Khalid Banuri in his remarks on "Global and Regional Dynamics of Technology Sharing" talked about the political side of the global dynamics of technology sharing and argued that the centre of gravity seems to have changed from Europe to China. He talked about the democratisation of the digital world and the need for transparency in technology transfer and accountability. He also pointed out the downside of technology while it can benefit, it has its dangers. He emphasised the need for better regulation of emerging technologies. He pointed out that no major power is interested in regulating it because they are all interested in being on top of the technological race.
Mr Muhammad Adeel in his remarks on "Technology Optimisation through Tech Diplomacy" said that emerging technologies can deliver socio-economic development in the world while it can also provide an edge in warfare. He said that emerging technologies are technologies whose development, practical applications, or both are still largely unrealised. There is a very rapid rate of technological innovations, particularly in the growing capabilities of the Web, artificial intelligence, big data, improved analytics, automated translation services and robotics. He said that today, a whole new array of technologies – AI, robotics, hypersonics and cyber technology, among others—is being applied to military use, with potentially far-ranging consequences. New technologies are a major redistributor of power among states and a significant force shaping international relations. He emphasised the need for appropriate regulations to respond to the range of emerging technologies. He suggested not negotiating more international treaties but cross treaty dialogue.
Dr Zafar Nawaz Jaspal in his remarks on "Technology Indigenisation: Prospects and Challenges" said that we are in the 4th industrial revolution. He said that Pakistan faced many embargoes over the years. He stressed the need for Pakistan to indigenous technology to save foreign exchange and to keep abreast of the technological race. There is a need for public-private partnership, coordination with industry, strategic security community and academia to realise the challenges of indigenisation. He suggested the need to focus on youth and the need for investment in infrastructure that will promote tech optimisation.
The remarks by speakers were followed by a robust discussion and question-answer session.
In his concluding remarks, Ambassador Khalid Mahmood, Chairman BoG ISSI, stated that the relentless march of technology is affecting every facet of human life. But even more significant is the speed with which technologies are changing. Russian President, Vladimir Putin, said that "Whoever will lead in artificial intelligence, will lead the world." New technologies bring new challenges. There is also the danger of misuse of technologies or their falling into the hands of non-state actors. One cannot stop the march of technology but he emphasised that humans need to be kept in the loop.