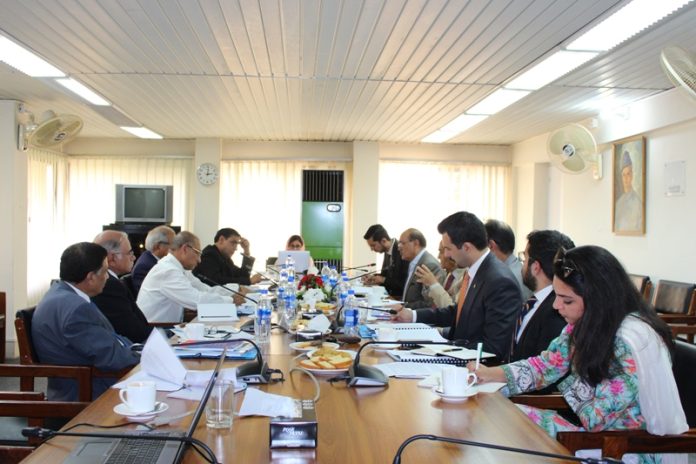 Tuesday Dialogue
Indo-Israeli Nexus: Implications for Indian Occupied Kashmir (IOK)
Oct 01, 2019
The Institute of Strategic Studies Islamabad (ISSI) held a Roundtable Discussion on Indo-Israeli Nexus: Implications for Indian Occupied Kashmir (IOK) on October 1, 2019 under the 6th round of its Tuesday Dialogue series. Tuesday Dialogue is a non-attributable informal discussion on key issues of importance to Pakistan, and brings together experts, academics, former diplomats and others for free floating discussion. The objective of the series is to generate ideas for providing policy inputs to the government.
The Dialogue was attended by Lt. Gen. Naeem Khalid Lodhi, Advisor, Centre for Strategic & Contemporary Research (CSCR), Ambassador Arif Kamal, Ambassador Rizwan ul Haq, Ambassador Javed Hafiz, Mr. Jamal Aziz, ED, RISIL and Mr. Altaf Hussain Wani, Chairman, Kashmir Institute of International Relations (KIIR).
The discussion focused on how post Cold War world order was in a influx, with new alliances taking place; one of them being the growing relations between India and Israel. It was felt that India's oppression of Kashmiris cannot be seen in a vacuum, since it is learning from Israeli tactics being employed against the Palestinians. These includes settlement projects, deployment of military units in counter-terrorism operations and urban warfare, and deflecting international attention from the atrocities taking place in Kashmir. The discussants also talked about steps Pakistan should take to mitigate the threat from this nexus. These included highlighting the Indian atrocities in IOK and not allow India to deflect attention of the world from the human rights violations taking place there. Concurrently, Pakistan should not allow non-state actors to use Pakistan's territory as this strengthens India's false argument and undermines the Kashmiri struggle. It was also agreed that narratives are extremely important. Hence, it is important to build a case in legal terms to draw attention to India's illegal annexation and war crimes in IOK.