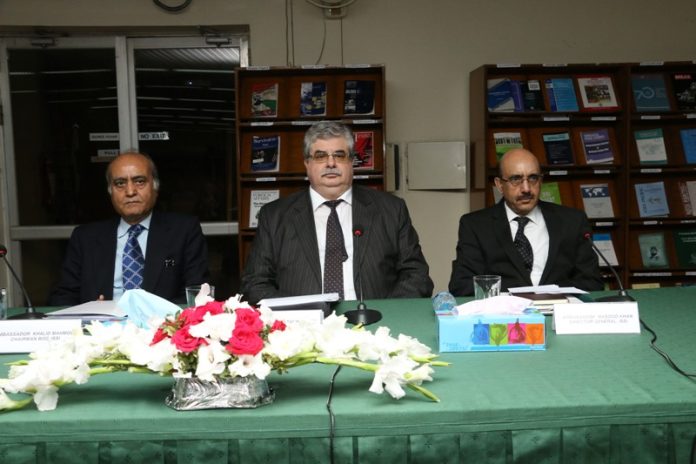 Press Release
Public talk on "Pakistan –Russian Relations
Institute of Strategic Studies, Islamabad
March 17, 2016
The Institute of Strategic Islamabad (ISSI) organised a public talk today on "Pakistan–Russian Relations" under its Ambassador's Platform series. The distinguished speaker on the occasion was, H.E. Mr. Alexey Yurievich Dedov, Ambassador of the Russian Federation to Pakistan.
Ambassador Masood Khan, Director General ISSI in his welcome remarks stated that Pakistan and Russia have always shared a desire to come close to each other despite their troubled history. He said that following the many initiatives by the leadership of both countries, the current phase of relations is very promising and very encouraging because both countries have made a new beginning as evidenced by the frequent high level visits in the past two to three years. He thanked the Russian Federation for supporting Pakistan's application to join the Shanghai Corporation Organisation (SCO). He pointed out that a common reference between the two countries is the 'One Belt-One Road' initiative because the project would definitely pass through Moscow, hence making it a very important link. He said that Russia is an important country on the world stage, and would play a pivotal role in international politics. He reiterated that there has been an upswing in Pakistan-Russia relations, and that Russia enjoys a very good reputation in Pakistan, and that prospects of Pakistan-Russian relations are very bright in all areas; strategic, political, economic and commercial.
H.E Mr. Dedov also echoed the Director General's sentiments saying that while the relationship of the two countries has had many ups and downs, but recently, there is evidence of increased ties following the frequency of high-level official meetings as well as delegation exchanges between various ministries and agencies of Russia and Pakistan. He stated that Russia attaches particular importance to cooperation with Pakistan in the framework of the Shanghai Cooperation Organisation – a body that has gained much credibility and is rapidly evolving into a key element of the regional security architecture. He said that the leaders of the two countries will be meeting again this year in Tashkent on this platform. Ambassador Dedov emphasised that enhancement of trade and economic cooperation with Pakistan is high on Moscow's agenda. While trade between the two countries has taken a dive, both countries should work extensively on improving this situation. He highlighted the role of the Intergovernmental Commission on trade, economic, scientific and technical cooperation between Russia and Pakistan (IGC) – a body which is working hard to build business ties between the two countries. He also lay emphasis on the first ever 'Russia Pakistan Trade and Investment Forum' which was held on the sidelines of the fourth session of the Russia-Pakistan IGC in November 2015 in Islamabad. The supply of Liquefied Natural Gas (LNG) to Pakistan and the importance of establishment of air links and creation of banking channels between the two countries were key issues on this occasion. The Ambassador underlined the importance of the on-going construction of LNG pipeline from Karachi to Lahore and dubbed it a very important step in relations between Pakistan and Russia.
Ambassador Khalid Mahmood, Chairman Board of Governors of ISSI, in his concluding remarks underlined that Pakistan highly values friendly relations with Russia and is committed to strengthening ties and enhancing long-lasting cooperation. He stated that there are many avenues for cooperation between the two countries including combating drug trafficking. He expressed eagerness about President Putin's much awaited visit to Pakistan.
Arhama-17032016