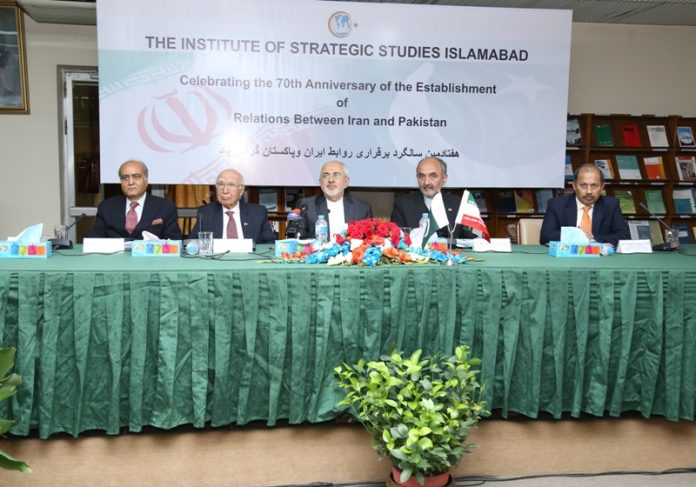 PRESS RELEASE
Public Talk
on
"70 Years of Pakistan-Iran Relations and Future Prospects"
Institute of Strategic Studies Islamabad
March 12, 2018
"I believe Pakistan and Iran are prudent enough and have a solid foundation to lead the change for a stronger neighborhood based on the concept of including everyone and move from something that has caused bloodshed, misery and underdevelopment and move towards becoming a united Ummah that is an example for everyone. Iran will never allow anyone to hurt Pakistan from Iranian territory, just like we know that Pakistan will never allow anyone to hurt Iran from its territory." This was stated by H.E. Mr. Mohammad Javad Zarif Foreign Minister, Islamic Republic of Iran, during his address as Chief Guest at a Public Talk on "70 Years of Pakistan-Iran Relations and Future Prospects." The talk was organized by the Institute of Strategic Studies Islamabad (ISSI) to commemorate 70 years of the establishment of diplomatic relations between Pakistan and Iran.
Other dignitaries of at the talk included: H.E. Mr. Sartaj Aziz, Deputy Chairman, Planning commission; H.E. Mr. Mehdi Honardoost, Ambassador, Islamic Republic of Iran and Mr. Mansoor Ahmad Khan, Director General (Afghanistan, Iran& Turkey), Ministry of Foreign Affairs.
H.E. Mr. Mohammad Javad Zarif stated that Iran and Pakistan have the longest diplomatic relations between the two countries – relations which are deep-rooted in common history, culture and values. He said a move by Pakistan and Iran to establish even stronger ties including increased economic, political, cultural and ties between the people from both sides, is in the interest of the entire region.The Foreign Minister stated that both Iran and Pakistan have a bigger task as two major Muslim countries living in a very difficult region, to change the paradigm from one of exclusion, rivalry and dependence on outside sources. We need build a new paradigm in this neighborhood based on "a new neighborhood networking policy". There is an illusion that security can be purchased. However, our world is not a world of coalitions anymore because we now build coalitions only to find our allies turning against us. Mr. Zarif said that in order to have a better region, the countries need to move to a paradigm based on the understanding of the most important concept that security cannot be gained by deterring others. Syria and Yemen are miseries which our own wrong choices have brought not only to us, but to innocent civilians and we continue to blame each other for this. Blaming may be a nice scapegoat, but it does not solve problems. The Islamic world can be a very strong Ummah provided that no country tries to become the dominant force in the Ummah and no one tries to exclude anyone in the region. We need a strong region rather than a strong man. Our region – Asia – can become a basin for knowledge and development. We do not need to have competition at the expense of each other. Instead of forming blocks, we need to form networks, because while the former are created to exclude somebody, the latter are built to include all.
Mr. Sartaj Aziz spoke about how Iran was the first country to recognize Pakistan and 70 years later, the common objective of both Iran and Pakistan is the unity and prosperity of the Muslim Ummah. He said that the heart of diplomacy is in geo-economics, hence trade and investment should be increased. In this regard, both countries should improve their facilities and common links through both land and sea. Strengthening economics and people to people links will result in a fruitful relationship beneficial to people of both sides.
Earlier, in his welcome remarks, Chairman ISSI, Ambassador Khalid Mahmood spoke about how apart from the cultural and ethnic commonalities, Pakistan and Iran also have several other areas of potential bilateral cooperation such as economy, energy, and health. This trend comes at a time when a wave of economic integration is sweeping the region. As the China-Pakistan Economic Corridor (CPEC) gathers steam, there is no reason why we cannot achieve the $5 billion target of bilateral trade. He went on to say that the Economic Cooperation Organization (ECO) should be made more relevant and effective and member countries should do more in this regard. In his concluding remarks, Ambassador Mahmood he said that 76% of the Pakistani people have a favorable view of Iran and we need to value and build upon this.