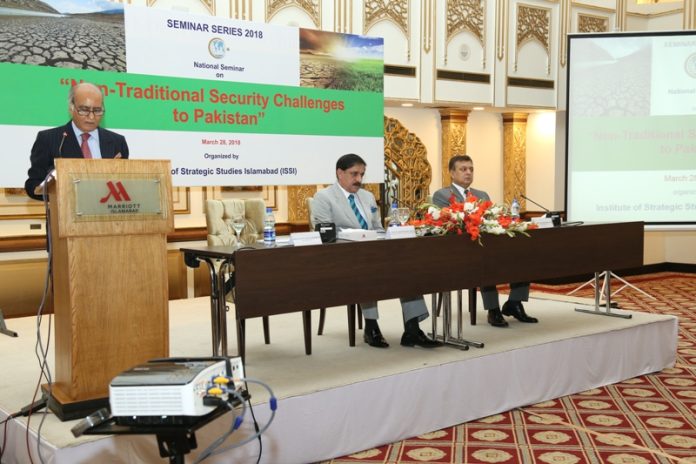 PRESS RELEASE
National Seminar
on
Non-Traditional Security Challenges to Pakistan
Dated: 28-March-2018
"Today, Pakistan is confronted with a plethora of non-traditional security threats, yet they cannot be dealt with effectively in isolation from traditional security threats. To address these challenges effectively, we'll have to adopt a comprehensive outlook on national security." This was stated by Lt. Gen. (R) Nasser Khan Janjua, National Security Advisor of Pakistan, during his address as Chief Guest, at a National Seminar on "Non-Traditional Security Challenges to Pakistan", organized by the Institute of Strategic Studies Islamabad (ISSI) at the Marriot Hotel, Islamabad.
The speakers at the Seminar included: Ms. Romina Khurshid Alam, Parliamentary Secretary for Climate Change; Dr. Ghulam Rasul, Director General, Pakistan Meteorological Department (PMD), Mr. Javed Ali Khan, Country Head, UN Habitat Pakistan; Dr. Abid Qayyum Suleri, Executive Director, Sustainable Development Policy Institute (SDPI); Mr. Abdul Ghaffar Khan, DG Population, Ministry for National Health Services, Regulations and Coordination (MNHSRC); Dr. Asma Hyder Baloch, Member Social Sector and Devolution, Ministry of Planning, Development and Reforms (MPDR); Ms. Puruesh Chaudhary, Founder/President, AGAHI; Dr. Zeba Sathar, Country Director, Population Council Pakistan (PCP); Mr. Javed Jabbar, Former Senator and Federal Minister; Mr. Basharat Ahmed Saeed, Water Resources Specialist, World Bank, Pakistan; Dr. Iqrar Ahmad Khan, Vice Chancellor, University of Agriculture Faisalabad; Lt. Gen. (R) Muzammil Hussain, Chairman, Water and Power Development Authority (WAPDA); Dr. Qamar Uz Zaman Chaudhry, International Climate Change Specialist, Asian Development Bank; Mr. Ahmer Bilal Soofi, President, RSIL; and Dr. Khalid Mohtadullah, Senior Advisor, Global Water Partnership (GWP). Presentations were made by the speakers on the broader themes of environmental degradation, population explosion, food security, and water security.
Lt. Gen. (R) Nasser Khan Janjua outlined the constitutive elements of national security at great length, while establishing their link with nation building and nationhood. He was of the view that Pakistan's security challenges, both traditional and non-traditional, emanate from the negligence of the people's welfare, poor governance and dysfunctional institutions. If left ignored, he maintained, non-traditional security threats will hamper the process of national development along with undermining national security and survival. He suggested that a multi-pronged approach should be formulated to deal with the challenges of environmental degradation, food and health security, water scarcity and population explosion.
The main points raised by the speakers during the seminar were that the nature of non-traditional threats and challenges to Pakistan are grave and that the country needs to improve its socio-economic milieu, which has both direct and indirect bearing. The experts also accentuated the need for incorporating the elements of environmental security into the prevailing narratives of national security. It was agreed upon that urbanization, water scarcity and population explosion are problems which can be managed by introducing institutional reforms and implementing wide-ranging policy initiatives. The speakers also agreed that a futuristic approach is absolutely essential since non-traditional security challenges are being shaped by the forces of technological advancements, the fourth industrial revolution, globalization, and the growing competition among the states and the societies for natural resources. Possibly, one of the most fundamental dimensions of non-traditional security threats are population explosion and food scarcity because they are not as dependent on external factors. Moreover, at the end of the day, it is more of a question of political leadership. Investment in R&D in Pakistan also needs to be improved. On the question of water security, all speakers agreed that the judicial arm of the country is only now realizing the threat of water security, and the constitution of the country should look into making more reservoirs (as stated in the Climate Change Convention Implementation Act which Pakistan ratified in 2016) primarily as its responsibility being a lower riparian country, and also keeping in mind the threat from India. Pakistan has two options: to opt for either destructive potential of water or harnessing its productive potential. In case of the latter, the way forward is first to recognize that water resources are a potential competitive advantage for Pakistan's economy. In order to harness it, a clear national vision for water resources management and development is needed as is a concerted effort to develop consensus on depoliticizing decision making on dams and build up a support for equitable distribution of costs and benefits of the water economy.
Earlier, in his opening remarks, Chairman ISSI, Ambassador Khalid Mahmood spoke about the importance of understanding the nexus between climate change and security in the process of policy formulation. He said that the most important task in front of us is to connect the dots between environmental degradation, food security and water security keeping in view the population explosion. Pakistan requires an urgent re-conceptualization of "National Security" and the set of recommendations for national security policy and strategy formulation to counter these challenges. He proposed that given the diverse nature of non-traditional security threats, Pakistan must respond to these challenges at all levels. In his concluding remarks, the Chairman thanked all the speakers and highlighted the importance of non-traditional security challenges for Pakistan and said that the national security-climate nexus is unmistakeable in the case of Pakistan in terms of traditional definition of national security.